HORSE RIDING TOUR
from $0.00
Having saddled up onto our Mongolian steeds, we will ride off into the mountains and lush green meadows, passing through nomadic Mongol family.
Reviews 0 Reviews

0/5

Vacation Style Holiday Type

Children, Family, Ger Camping, Guided Tours, Wildlife

Activity Level Moderate

Group Size Medium Group
All about the HORSE RIDING TOUR.
Ride in Taiga Forest
The taiga or boreal forest exists as a nearly continuous belt of coniferous trees across Eurasia and North America. Overlying formerly glaciated areas and areas of patchy permafrost on both continents, the forest is mosaic of succession and sub climax plant communities sensitive to varying environmental conditions. Taiga is the Mongolian name for this forest which covers so much of that country. However, the term is used in North America as well.

Can I choose my horse?
Yes you can! but only with your local horse guide and your trip leader, it can be done. Beginning of the trip, you might feel uncomfortable with your horse, please tell your horse guide and trip leader, they are able to swap or change your horse. However active lifestyle may make your experience more enjoyable.
How big is a team?
We have experienced tour guides plus drivers to support the team to ride a Mongolian horses. Adding to the group is best experienced cook for the trip to serve so delicious food! Our local horse wranglers are friendly smiley people make our trip so easy and enjoyable and fun.
Who else will be on my trip, and how big are the groups?
The normal group size is from 3 to 6 persons and  up to 12 riders. This size of the group allows us enjoying yourself in the group and enjoy the trip.
Will I stay warm?
Please, find below the table of average winter temperatures:
| | | | | | |
| --- | --- | --- | --- | --- | --- |
| Temperature (°C) | May | June | July | Aug | Sep |
| Max | +20 | +25 | +30 | +32 | +22 |
| Min | -10 |  0 | +12 | +13 | 0 |
Are there any basic principles to staying warm in a cold climate in the mountain at night:
* Keep dry. One of the most important steps in keeping dry is to choose the appropriate clothing. This is clothing made of fabric that does not hold moisture. Cotton is not to be worn outside in winter, as it is extremely absorbent and does not dry fast. It is important that socks and long underwear do not contain any cotton fibers. Appropriate winter clothing is made from synthetic fibers. Synthetics are quite plastic and do not hold water.
Choosing synthetics is most important when selecting long underwear. Polypropylene, Thermax, Capilene, or any other name brand synthetic, will not hold water. Wool is also good for this kind of activities, however, it does not dry as quickly as synthetic. Do not avoid wool, but given a choice, pick a synthetic fleece over wool.
* Avoid sweating during activities. You will learn to monitor how much insulation your body needs to stay warm, but without sweating. There are still families around with very warm gers.
*Bring clothing with "loft" to hold air. Fabrics include down, synthetic fleece, and wool. This is another advantage to the layering system, as several layers will trap more air than a single thick one. It is very important that there should be plenty of room between layers. Layers that are tight and constricting will also constrict blood flow. Blood circulation is essential to stay warm.
* A tightly woven outer layer of nylon or other material will block the wind.
*Food and drink are also important for keeping warm. When participating in our trip, you will be burning more calories than you normally do, so you must consume more calories. Fat is the most important ingredient for keeping warm because it contains the longest lasting calories. To keep hydrated you should drink 8 to 10 cups of water each day, small quantities of water consumed at intervals during the day is best.
*Physical exercise is also essential in keeping warm. Some exercise, like jogging-in-place, is needed to warm you, during breaks and lunch stops.
*Sun protection is extremely important, as the sun reflecting off the snow is very bright. In order to be comfortable on sunny days, try to wear a hat or hood with a brim and/or sunglasses. (Remember however, the most important factor in selecting a hat is its warmth.) Sunscreen on your face and lips is also helpful.
What kind of horse do you use for these trips?
Primarily tough Mongolian pony size horses. Some say- Mongolians do care their horses more than their wives. Out in the countryside without these strong tough horses, you feel like you are lost in the middle of nowhere.  The horses in the mountain are strong legged and very quite, lovely horses. They are capable of speed and great endurance and are sociable companions on the trail Meanwhile horses in steppe are similar to mountain horses but bit of shy.
What kind of accommodation will be used?
There would be hotel stay in Ulaanbaatar city, Mongolian ger stay  and tented camp during trip to the countryside.
How much time will be spent on the trail?
The first day, 4 to 5 hours minimum is spent on the trail. Second day, two hours longer. Third day, same as second day. Night runs only done if conditions and interest warrant. Night riding is also interesting to do under the billions of stars and shooting stars in the sky!
How many km do you cover in an average day?
The horses are very fast and easily cover 20 to 40km per day. The number of miles vary depending on the travel conditions  e.g.
How much experience is required?
Basic riding skill is essential and either ways, your self-comfort is important. Also sharing your common thought within a group how to ride a horse better or how to handle some situations.
What level of physical ability is needed?
You must be physically fit to do this kind of trip.
The tour package inclusions and exclusions at a glance
What is included in this tour?
Items that are included in the cost of tour price.
What gear will I need?
All horse riding trip need several equipment.
Helmet
Helmets just make sense as you don't know when and how an accident could occur. Skill level should NOT be a factor when deciding to wear a helmet as even the best horses can trip and can fall. You simply can't predict how an accident may occur.
Shirt
From western bling show shirts to the traditional english show shirt there are options galore in this category. Many schooling shirts and even some newer show shirts are now made from wicking, breathable performance fabrics.
Pants and Breeches
Traditionally the western rider goes for Wrangler or Carhart Jeans and English riders tend to favor breeches or if you are younger, jodhpurs. There are a whole range of styles of horse riding pants in both categories. Good western jeans are comfortable, have seams that won't rub when riding, and are meant to last.
Breeches fit snug on your body. They tend to be made from cotton or other materials combined with some spandex to help them fit. English breeches keep you from sliding around on a smooth leather saddle.Traditionally they are worn at the natural waist and are fitted at the bottom (so field or tall boots can fit over them), but boot cut and low rise breeches are now available as well as english fitted riding jeans!
Chaps
From Fringe laced full leather chaps to the english schooling half chaps there are many types of Chaps and Chinks to fill your needs. Full chaps are worn from the waist all the way down to the ankles, while chinks only go about to the knee. Half chaps are an english version commonly used for schooling or lessons. They connect under your shoe and zip or snap up and end at the knee.
Chaps are a great addition to your horse riding gear. They can give you more grip in the saddle as well as keeping your legs dry from the sweat of your horse or the outside elements. Getting a pair that has the proper fit needs to be at the top of your list with this bit of horse riding gear. Ill fitting chaps are super uncomfortable!
Bits and Bridles
The bridle is an important piece of horse riding gear. It consists of a headstall which is all of the parts of the bridle that go on your horses' head, and the reins that you hold. Learn how to bridle.
The bit is the metal portion that goes in the horses' mouth and is connected to the headstall and reins. The Headstall is made from anything from leather, in many varying styles for the different disciplines.
For instance, a nose band (the part of a headstall that goes around a horses' nose) is commonly found on English bridles but not on western ones. While a western bridle will generally sport a curb chain, which is a small strap of leather or chain that goes under the horses' chin and attaches to the bit on both sides, and English one will not.
Bits are generally made of metal of varying sorts. Stainless steel, copper, and sweet iron are very popular choices. They type of bit you choose depends on the style you ride and the level of training both you and the horse are at, and mostly what the horse prefers. The standard for starting out with a bit is a simple snaffle (jointed bit). Mylar bits are one of the most popular and best brands.
Also please, find below the list of recommended clothes:
A set of long synthetic underwear, like Thermax, polypropylene, or Capilene.
Heavy wool or synthetic socks.
Cap or sunhat
Gloves and mittens. It is important to have both. A couple of pairs of simple gloves like fleece, or ski gloves and a heavy pair of mittens with some sort of windbreak like nylon or leather is helpful.
Fleece or wool pants.
Fleece shirts or wool sweaters. You should be able to wear both of these at the same time. It is better to have shirts of two different thicknesses.
Hooded jacket or parka.
A hooded wind shell jacket to fit over all of your other clothing
Wind pants
Boots.Tight boots cut off the circulation which leads to cold feet.
Sunglasses.
Water Bottle
Is it safe to ride a horse?
As with any outdoor activity, horse riding involves its own natural risks. Careful preparations and thorough instruction minimizes many risks and allows you to ride your horse safely. Our guides are well trained and experienced in horse riding and guiding outdoor trips.
Saddle –Mongolian Saddle Oh My God!
One of the most important pieces of horse riding gear for both horse and rider is the saddle. Many people have never ridden bareback, so that tells you how important it is!
The saddle helps keep you balanced and secure on your horse, while for him it distributes the weight down his back more evenly, making it easier for him to carry a person comfortably for a longer time.
Wooden Mongolian saddle is on e of the most uncomfortable saddle!  And is not recommended for our riders and we have small western saddles to provide our clients.
Accommodation
We use comfortable 4-5  star hotels in Ulaanbaatar, capital city and good service Ger camps throughout countryside.
Basically,  provided lodging, food, hot shower, toilet facility and other services like massage, if it is health spa ger camp. There are categories like- luxury,- high standard- medium and very basic according to their offer and facilities.
Tented Camping
Outdoor & tent camping travel in Mongolia will give you chance to enjoy the nature beauty and feel more close to nature and our earth. Tent camping on the bank of river makes you enjoy with river water sound, in the forest: the sound of trees leaning in the wind, in vast steppe: very quiet environment makes to sleep very well.
During tent camping
Some visitors may visit to your tent like naughty baby goats, small children or dog from a nomad family. Other fun and adventures are in front of you.
Food
The hierarchy of foods in the Mongolian diet
The meat-dependent diet arises from the need for hearty food to stave off the cold and long winters. Traditionally nomadic herders, Mongolians have for centuries been dependent on mostly animal products for their dietary staples.
Since 2000, Mongolian dietary has incredibly changed and added many varieties of vegetables and fruits. With combination of added vegetable, menu has extended a lot.
Both Asian and Western meals can be served in Ulaanbaatar, Mongolia adding more fish dishes.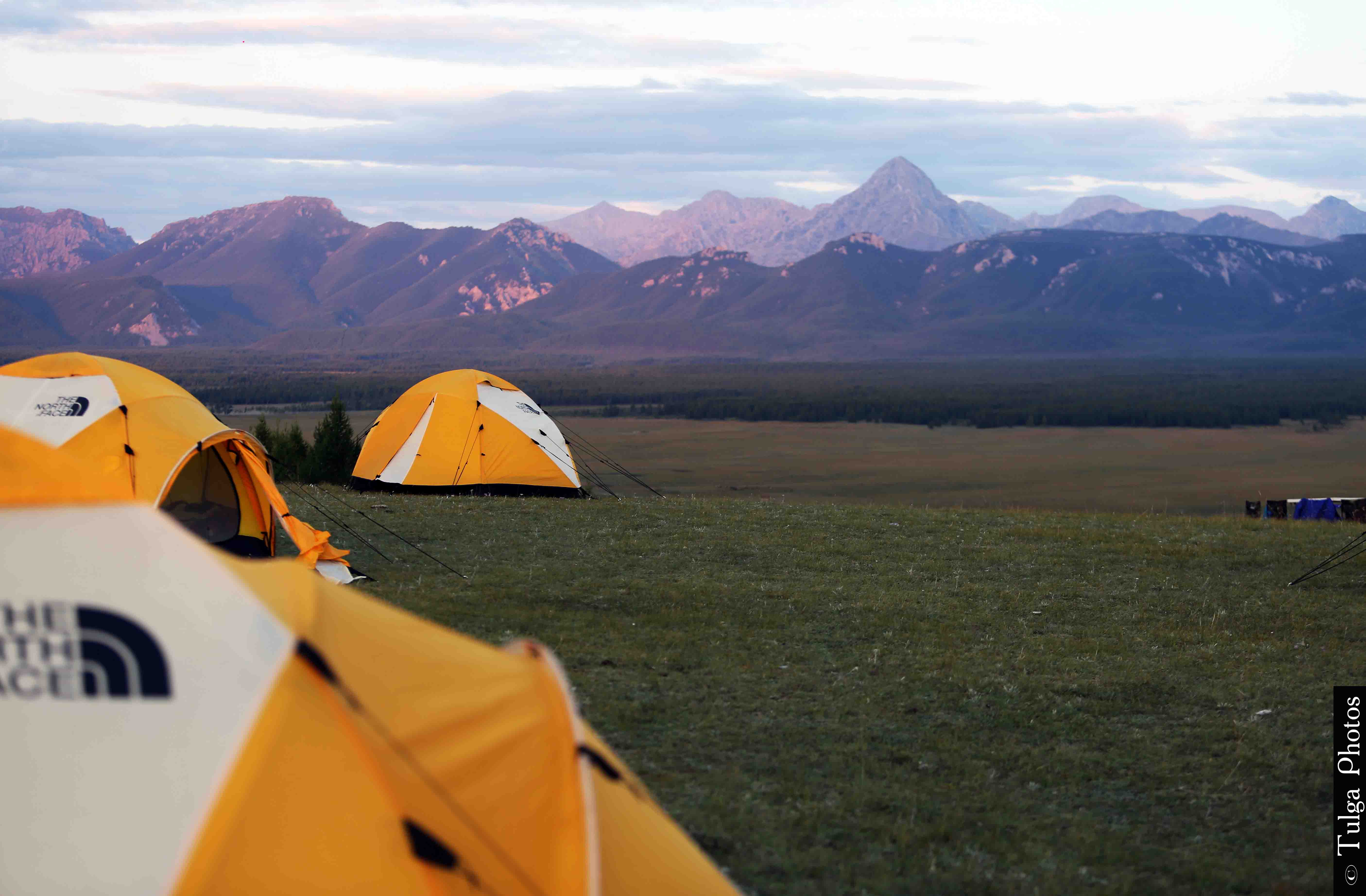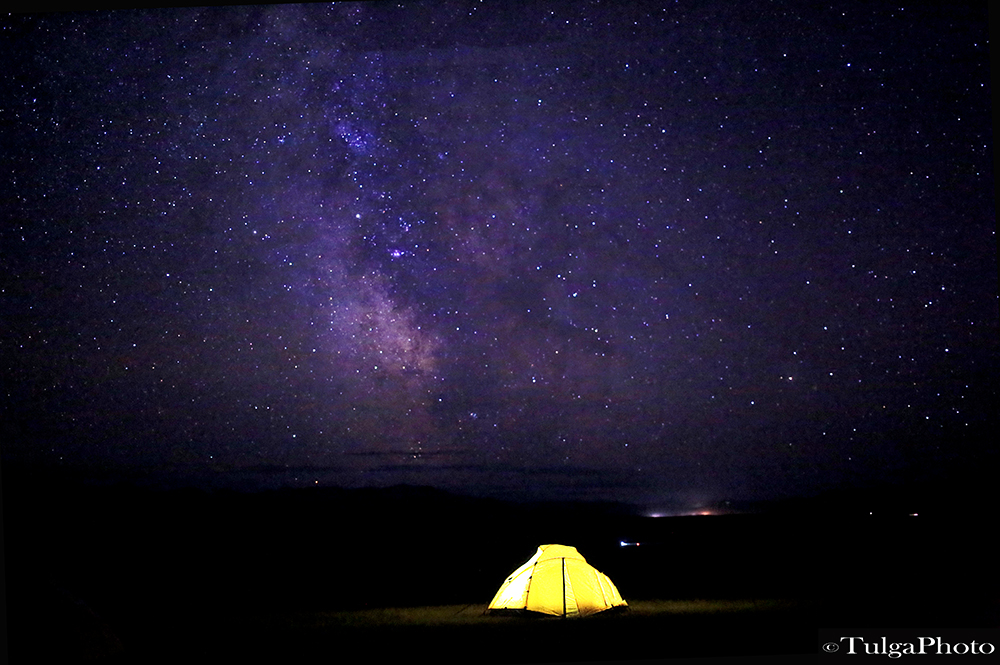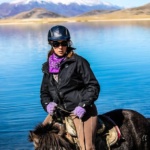 Nomadic Trails: Best tour company in Mongolia I say
I have just returned from the trip of a lifetime in Mongolia. It was my third visit (first with top notch tour company, second independent with guide/driver – budget version) and it was my best. Mainly due to the tour company – Nomadic Trails (www.nomadictrails.com). Cannot recommend them enough – professional – with the perfect mix of adventure and comfort. They will take you out to off-beaten (even in Mongolian terms) places but with brilliant support staff (yes, we even got a shower tent most nights – which is total luxury!). I did the Northern Mongolian horseriding trip which includes visiting reindeer herders (spending a night in a tee-pee lent by a lovely lady was a highlight). I'm sure they aren't the cheapest but they are certainly the best (I've done cheap – and let me tell you – having a guide fluent in English, great food, equipment, horses staff etc is worth the extra). So if you are looking for a great company go here – five stars plus  Maybe I'll see you – as I'll be returning with them next year
Fiona, 

Melbourne the photographer,

We are now  more or less been back to our normal life.
Thanks again for arranging a memorable
tour in your beautiful country.
We will be back for more!
More…

It took me 2 weeks to physically recover from our trip, the memories will stay for ever.
Thank you so much for looking after us and showing us your amazing country, thank you for always doing it with a smile and bringing much laughter.
It was a very special trip that will have always have it's own place in my memory and my heart.
Amanda Kenny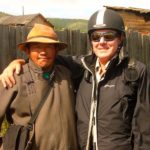 Thanks for everything!
Wonderful experience!
See you in next year
Michael Hudson
The recce to Mongolia was an unforgettable experience.
The vast open Steppe, the friendly local people, the history, the horse race, the tiny, tough ponies and the food – especially the authentic fare we were able to sample like goat, curd cakes and airac!
An ideal trip for those wanting their first taste of a horse trekking adventure.
Didi Goodenough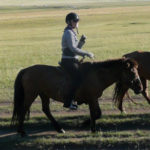 Mongolia is for those who really want to get away from it all rather than just talking about it…..we covered mile upon mile of the most stunning wilderness scenery, with strictly no mobile phone or email reception to interrupt the reverie for the best part of two weeks.
Bliss. We hardly stuck to the itinerary, but it didn't matter one jot in a place like Mongolia.
The highlights? Camping at some or other place, the land underfoot was carpetted with edelweiss, with a stunning sunset, campfire….and a
bush shower!!!
The perfect night in Mongolia.
Nicolette Krajewski