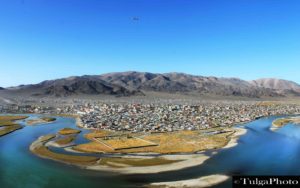 Provincial Capital of Bayan-Ulgii Province
The westernmost provincial capital is 30 thousand in population.
This town is the most western getaway town. Scheduled domestic flights are in service all year round with varying schedules for each season. The town is one of the towns of Mongolia with a paved road that connects it with the capital, Ulaanbaatar city. State services like hospitals, schooling, administration, and court are available as well as banks, ATMs, bigger supermarkets, and open bazaars. Good hotels can also be found here.
This is one of the Muslim towns of Mongolia with the predominant population being the Kazakhs. Golden Eagle Hunter's Festival and other ethnical groups of Mongolia that make up the population of Ulgii town make this region one of the must-visit destinations for travelers from around the World.
As the most western getaway town, Ulgii borders with two neighbors of Mongolia, the Russian Federation and the People's Republic of China, so it would not be amiss to highlight the border crossings.
Tsagaan-nuur border crossing with Russia is open all year round but it has no immigration office, however, you must still have a visa before your arrival.
Taikeshken, the border crossing with China opens only during summer, due to the high mountain pass and after snowfall becomes difficult to pass during winter. "
Tours that include this destination
These are our trips that include this stunning destination in the itinerary.