Mongolian Spiritual & Shamanic Healing Tour 2019
This Special-Spiritual and Shamanic Healing Tour firstly has designed by Nomadic Trails in order to help Rupert Isaacson's autistic son Rowan in year of 2007. After this successful trip Rupert Isaacson has written his best selling book and released a popular movie called The Horse boy.
We organize rather smaller group, up to 8 people (normally 6 people) to North Mongolia where there is beautiful scene and strong shamans to cheer up your wind horse (equal to soul)! 
* This trip is not a touristic or made up show.  It is something unique or different experience you will take! We concentrate on both soul and body healing by visiting beautiful nature, meditating, more body exercise- Yoga, Tai-chi and of course shamanic ritual. 
Enjoy recharging your Wind horse!
About Tour
Dates & Price
In Pictures
Travel Info
Terms & Conditions
Book Your Tour Here
About Tour

Mongolian Spiritual & Shamanic Healing Tour 2019
So, this journey is,visited by healer and shaman across the wide Steppe, and up into the forests of Siberia. There are possibilities of travelling on this tour either going to north or doing it easier to central part of Mongolia.
North Mongolia will be opening the door with very different edge of the world with reindeer herders who are so connected to the nature.
Experience this alternative spiritual holiday to the soul of Mongolia's culture, visit the Main Temples and explore the nuances of beliefs at shamanic ritual…
Remarkable journey through untamed landscape of Mongolia, the unexpected, beauty, and extra ordinary advances.
---
How it all started?
This special trip has designed for autistic family who wanted to heal their 5-year-old son called Rowan in 2007. After exchanging so many e-mails, we started to realize what they wanted to meet. But it wasn't good enough until we meet the autistic boy in Mongolia very first time. It was more than difficult. Because we never seen autistic person before! Tulga's son Tomoo had joined the trip made it so positive. The boys were 5 and 6 years only.
What happened in the trip for healing their son?
We traveled shaman to shaman and healer to healer. Endless thought of curing their son was unstoppable. It was like miracles! After shaman healing, visiting beautiful country, riding horses and etc... Son was starting to talk more with crew and parents, smiling, giggling and playing - just like parents wished. Proper toilet training was achieved so successful after tried hard!
---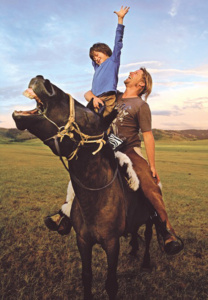 Is it trip for only Autistic people?
No. It was  for Autistic people only to start with and picked up by people who wish to fix some of their spiritual problems come to us repeatedly since 2007.
So, this spiritual trip for anyone who wish to cheer-up their wind horse (equal to soul), fixing mind power, cleaning or cheer it up plus recharging their energy in Mongolia. There will be 2 options to do this trip. This is here, you join the group or do it privately.
There are fixed dates for this trip. Please see Dates & Price section. 
Another option is to send your request to us with your available dates. Our office will assist to make this amazing trip happen. We have experienced staff to make this fascinating trip possible for you.  
---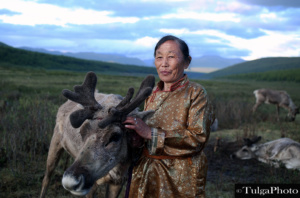 When to go to Reindeer Herder's place
Depending on weather in Mongolia, summer period considered to be good time to visit. I would say, avoiding tourism peak season is nice idea which are in June and August. We will be travelling more north of Mongolia in the mountain, so August, September will be cooler period compared with July.  Off-tourism season is cold or colder here but, some people accept it as advantage. Reward is amazing for those ones, who love cold season no other travellers around you! 
Please advice with Mr. Tulga who is expert on this trip on tulga@nomadictrails.com
---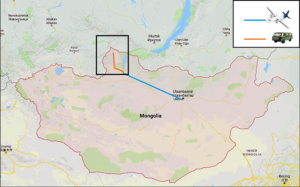 Where does this trip take a place in?
This tour starts in Ulaanbaatar city and head to north Mongolia covering Tov, Bulgan Khuvsgul provinces and not a small distance you will cover, about 2500 km/ 1500 mile. Airplane ride helps to cover some distances so well.
Is it dangerous to travel to Mongolia?
Basically, anywhere you travel there are risks and hazards. Avoiding hazards with your local tour leader reduces the any risks too much more low-level. According to statistic Mongolia is one of the safety destinations in the world. Even we have impressive statistics, please follow your tour leader advice.
---
I can't ride a horse, what can I do or how many hours to ride a horse?
Taking a horse riding basic lesson is essential. Some people who never ridden before took this trip and ended up so happy with their riding experiences. It is all about using your basic instinct and follow the instructions of your tour leader. It makes everyone's life easier and you will start enjoying the horse ride.
Horse riding hours depend on which month of the year you are coming to visit the region, basically in between 3-8 hour is norm. Of course there are breaks and lunches during your ride. Horses we use, quite and calm used or experienced horses and our guides, cooks and horse guides are all experienced and trained well.
It would be good to read horse riding tips: https://www.nomadictrails.com/mongolia-travel-blog/
---
How long the trip is for?
This trip is basically for 2 weeks, if you wish to extend it with Gobi or western Mongolia is still open! There are some distances needed to cover by jeeps and small amount by horses.
Where do we sleep during the trip?
This trip basically designed to use tented camping mainly. 2 man tents and single tents are available. Tented camping based on those sleeping, cooking and restaurant, toilet plus shower tents. If we needed we will put up luggage tents too. After taking a shower you will feel great in the nature! Nothing compares with this feeling ?
Adding to this we planned to stay in Ger (Nomadic style of dwelling with stove to heat the ger, makes it cozy and comfortable). One night in a Hut styled cottage is another comfy. Staying in the Tee-pee will be one of the top experiences of all too. You wake up with reindeer in the morning! They can come into your tee-pee, nice!
Bringing your own sleeping bag will be good Idea! Ask your tour leader list of equipment they can offer. Also, see Travel Info section please.
---
Mutton noodles? I am vegetarian will I ever survive in Mongolia?
Mongolian food Mutton and noodles this gone so far away now. Ulaanbaatar city has extended it's territory and it's food source too. Bigger the town or city more choice you will see. Good news is vegetarian and Vegans survive these days in Mongolia!
Beside mutton, beef, chicken, pork and fish can found in Mongolia. All those ingredients will make your journey more tasty and delicious.  Bon Appetite!
---
Dates & Price
Nomadic Trails is organizing 2 different Shamanic Spiritual Tours with following dates:
Here are fixed dates:
* 31 May- 9 June 2019
*17-28 August 2019
----------------------------------
⇒ Please note:  If any one would like to have private tour with different dates, do send us your request please.  Our office will support you to find best ideas to fit you our plan. Thank you. 
---
Brief Itinerary
Day1. Ulaanbaatar
Day2. Murun- Bayantsagaan Mountain
Day3. Ulaan Uul
Day4. Tsagaan Nuur town Khogorog Meeting shaman
Day5. Khogorog Shaman day
Day6. Taiga
Day7. Taiga -more shaman day
Day8. Khogorog back to same shaman
Day9. Beltes River valley
Day10. Murun town -Uushgiin Ovor
Day11. ULaanbaatar
Day12. Departure
---
Ask full Itinerary at:  
Contact Tulga at Tel: mobile: +976 9904 0894
In Pictures
Travel Info
Types of Accommodation:
Ulaanbaatar city: 
Khuvsgul Lake Hotel which located in the heart of Ulaanbaatar city, next to Chinggiss Khaan square.  http://www.khuvsgullakehotel.mn/

Near Murun Town, North Mongolia:
Tultiin Tohoi Ger camp: It is proper ger camp for tourist with a fixed toilet blocks, restaurants and bar, sleeping ger.
Local hotel stay in North Mongolia
There are some nights we stay in local hotels, which are around 1-2 star, or similar. These hotels are simple, hot showers available.  

Tented camping
One of our fascinating experiences of any expeditions is tented camping. We have "Sleeping, Dining, Kitchen, Luggage, Shower and Toilet" tents for our clients. It is not a "Glamping" but we have everything we need and they are all working properly. Depending on size of our camping, we will have another person to put up tents for camping. There are so many happy clients we have who stayed in tented camps with us.

Tee-pee stay in reindeer Tribe
One of our unique experiences, with so many happy clients who stayed in Tee-pee in reindeer tribe. We carefully select families who have more children, women who are willing to share experiences which makes our trip fantastic.  There will be sleeping mats or beds available. We use locals outside toilet and washing facilities.

Type of vehicles:
There are several types of vehicles can be used in this trip. We use mini buses or buses with 20 seats for City tour and picking up airport. For dirt roads, adventure tours we do need proper 4x4 wheel drive vehicles, such as russian mini vans and Toyota Land Cruisers

Also, there are upgraded version of method of transportation such as Land Cruisers and Lexus cars are available upon a request.
Terms & Conditions
The following booking conditions form the basis of your contract with Nomadic Trails Co. Ltd. Please read them carefully as they set out our respective rights and obligations. By asking us to confirm your booking, we are entitled to assume that you have had the opportunity to read and have read these booking conditions and agree to them. These booking conditions only apply to holiday arrangements which you book with us and which we agree to make, provide or perform (as applicable) as part of our contract with you. All references in these booking conditions to "holiday", "booking", "contract", "package", "tour" or "arrangements" mean such holiday arrangements unless otherwise stated. In these booking conditions, "you" and "your" means all persons named on the booking (including anyone who is added or substituted at a later date) or any of them as the context requires. "We", "us" and "our" means Nomadic Trails Co. Ltd.
1. Making a Booking:
1.1 To make a booking, you must complete our booking form. This must be signed (or ticked in the appropriate place on online booking) by the first named person on the booking ("party leader"). The party leader must be authorised to make the booking on the basis of these booking conditions by all persons named on the booking and by their parent or guardian for all party members who are under 18 when the booking is made. By signing the booking form, the party leader confirms that he/she is so authorised. The party leader is responsible for making all payments due to us. The party leader must be at least 18 when the booking is made.

1.2 The completed signed booking form must then be sent to us together with the payments referred to in clause 2.1 below.

1.3 Subject to the availability of your chosen arrangements, we will confirm your holiday by issuing a booking receipt. This receipt will be sent to the party leader. Please check this receipt carefully as soon as you receive it. Contact us immediately if any information which appears on the confirmation or any other document appears to be incorrect or incomplete as it may not be possible to make changes later. We regret we cannot accept any liability if we are not notified of any inaccuracies (for which we are responsible) in any document within ten days of our sending it out (five days for tickets). We will do our best to rectify any mistake notified to us outside these time limits but you must meet any costs involved in doing so.

1.4 We will communicate with you by e-mail in relation to your booking. You must accordingly check your e-mails on a regular basis. We may also contact you by telephone and/or post if we cannot, for whatever reason, contact you by e-mail. Certain documents may need to be sent by post. References in these booking conditions to "send" and "in writing" include communication by e-mail.

1.5 If booking online, any acknowledgement of your booking request we send you is not a confirmation of your booking. This will come once the booking has been confirmed in the form of either a booking receipt or confirmation invoice.
2. Payment:
2.1 In order to confirm your chosen tour, a deposit of up to USD 500 (or equivalent) per person for escorted group tours, or up to 30% of the total tour cost for a tailor-made trips (please note that depending on your chosen arrangements the required deposit may be different to these amounts. If it is we will advise you accordingly at the time of booking) must be paid at the time of booking. In addition some tours may require further interim payments.

2.2 The balance of the tour cost must be received by us not less than 70 days prior to departure and in some cases significantly earlier. This exact date will be shown on your confirmation invoice. Reminders are not necessarily sent. If we do not receive all payments due (including any surcharge where applicable) in full and on time, we are entitled to assume that you wish to cancel your booking. In this case, we will be entitled to keep all monies paid or due at that date. If we do not cancel straight away because you have promised to make payment, you must pay the cancellation charges shown in clause 5 depending on the date we reasonably treat your booking as cancelled.

2.3 In the case of international payments you should ensure that the full invoice amount, is received by us after all bank charges have been levied.
3. Your Contract:
A binding contract between us comes into existence when we despatch our booking receipt to the party leader. We both agree that English law (and no other) will apply to your contract and to any dispute, claim or other matter of any description which arises between us ("claim") except as set out below.
4. Passports, Visas and Health Matters:
4.1 General passport and visa requirements applicable at the time of printing are shown on our customer documentation.
However requirements may change and you must check passport and visa requirements with the embassy or consulate of the country(ies) to or through which you are intending to travel.

4.2 Details of any compulsory health requirements for your holiday are shown on our customer documentation. It is your responsibility to ensure you are aware of all recommended vaccinations and health precautions in good time before departure. Details are available from your doctor and from the National Travel Health Network and Centre www.nathnac.org. Information on health abroad is also available on www.nhs.uk/Livewell/Travelhealth. For holidays in the EU/EEA, EU citizens should obtain an EHIC (European Health Insurance Card) prior to departure from www.ehic.org.uk. An EHIC is not a substitute for travel insurance. Vaccination and other health requirements/recommendations are subject to change at any time for any destination. Please therefore check with a doctor or clinic not less than six weeks prior to departure to ensure that you have met the necessary requirements and have the applicable information. 

4.3 It is the party leader's responsibility to ensure that all members of the party are in possession of all necessary travel and health documents before departure. All costs incurred in obtaining such documentation must be paid by you. We regret we cannot accept any liability if you are refused entry onto any transport or into any country due to failure on your part to carry all required documentation. If failure to have any necessary travel or other documents results in fines, surcharges or other financial penalty, costs or expenses being imposed on or incurred by us, you will be responsible for reimbursing us accordingly.
4.4. If you are unable for whatever reason to obtain a visa or the authorisation required for a visa and are thus unable to travel we will seek to be as flexible as the situation allows but ultimately reserve the right to consider this as a cancellation under the terms set out in 5.1 below.
5. Cancellation By You:
5.1 Should you or any member of your party need to cancel your holiday once it has been confirmed, the party leader must immediately advise us in writing. Your notice of cancellation will only be effective when it is received in writing by us at our offices. As we incur costs from the time we confirm your booking, the following cancellation charges will be payable. Where the cancellation charge is shown as a percentage, this is calculated on the basis of the total cost payable by the person(s) cancelling excluding amendment charges. Amendment charges are not refundable in the event of cancellation.
Period before departure within which written notification of cancellation is received by us and cancellation charge per person cancelling.
71 days or more prior to departure - loss of deposit 
70-51 days before departure - 30% of tour cost
50-31 days before departure - 60% of tour cost
Less than 30 days - 100% of tour cost
5.2 Any payments for flights are non-refundable.

5.3 Depending on the reason for cancellation, you may be able to reclaim these cancellation charges (less any applicable excess) under the terms of your insurance policy. Claims must be made directly to the insurance company concerned.

5.4 On private bookings where any cancellation reduces the number of full paying party members below the number on which the price, number of free places and/ or any concessions agreed for your booking were based, we will recalculate these items and re-invoice you accordingly.

5.5. There are a certain destinations or trip components, such as cruises, that require payment up to 120 days before the departure date and may result in 100% loss upon cancellation. If applicable, this will be specified on your invoice and quotation.

5.6 See clause 9 "Changes by you" if any member(s) of your party are prevented from travelling.
6. Changes and Cancellation By Us:
6.1 We start planning the tours we offer many months in advance. Occasionally, we have to make changes to and correct errors in brochure and other details both before and after bookings have been confirmed and cancel confirmed bookings. Whilst we always endeavour to avoid changes and cancellations, we reserve the right to cancel or make changes to a trip under any circumstances. Please note, our escorted group holidays require a minimum number of participants to enable us to operate them. If the minimum number of bookings required for a particular holiday have not been received, we are entitled to cancel it. We will notify you of cancellation for this reason at least 45 days prior to your departure.

6.2 Most changes are minor. Occasionally, we have to make a "significant change". A significant change is a change made before departure which, taking account of the information you give us at the time of booking and which we can reasonably be expected to know as a tour operator, we can reasonably expect to have a major effect on your holiday. Significant changes are likely to include the following changes when made before departure; a change of accommodation to that of a lower official classification or standard for the whole or a major part of the time you are away, a change of accommodation area for the whole or a major part of the time you are away, a change of outward departure time of 12 or more hours, a change of UK departure point to one which is more inconvenient for you and, in the case of tours, a significant change of itinerary missing out one or more major destination substantially or altogether.

6.3 If we have to make a significant change or cancel, we will tell you as soon as possible. If there is time to do so before departure, we will offer you the choice of the following options:-
(a) (for significant changes) accepting the changed arrangements or
(b) purchasing an alternative holiday from us, of a similar standard to that originally booked if available. We will offer you at least one alternative holiday of equivalent or higher standard for which you will not be asked to pay any more than the price of the original holiday. If this holiday is in fact cheaper than the original one, we will refund the price difference. If you do not wish to accept the holiday we specifically offer you, you may choose any of our other then available holidays. You must pay the applicable price of any such holiday. This will mean your paying more if it is more expensive or receiving a refund if it is cheaper or
(c) cancelling or accepting the cancellation in which case you will receive a full and quick refund of all monies you have paid to us. Please be aware that this clause does not apply to any flights which are itemised separately on your invoice and which does not form part of a land only tour package bought from us.

6.4 If we have to make a significant change or cancel we will, where compensation is appropriate, pay compensation depending on the circumstances and when the significant change or cancellation is notified to you subject to the following exceptions. Compensation will not be payable and no liability beyond offering the above mentioned choices can be accepted where (1) we are forced to make a change or cancel as a result of unusual and unforeseeable circumstances beyond our control, the consequences of which we could not have avoided even with all due care or (2) we have to cancel because the minimum number of bookings necessary for us to operate your holiday has not been reached (see above). No compensation will be payable and the above options will not be available if we cancel as a result of your failure to comply with any requirement of these booking conditions entitling us to cancel (such as paying on time) or where a change is a minor one. Please also see clause 20 "Delay and Denied Boarding Regulations".

6.5 Very rarely, we may be forced by "force majeure" (see clause 13) to change or terminate your holiday after departure but before the scheduled end of your time away. This is extremely unlikely but if this situation does occur, we regret we will be unable to make any refunds (unless we obtain any refunds from our suppliers), pay you any compensation or meet any costs or expenses you incur as a result.
6.6. We reserve the right to cancel any booking if we reasonably feel that the physical condition or behaviour of a client may affect their own well-being, that of any members of our local crew, that of any other members of an escorted group tour, or the enjoyment of other members of the group while on a tour.
6.7 If you have chosen to pay an optional single supplement and we are for whatever reason unable to provide you with a single room for any advertised nights then we reserve the right to room you with a fellow traveller of the same sex and to reimburse you accordingly on a pro-rata basis.
7. Governmental Travel Advice:
The Foreign and Commonwealth Office publishes regularly updated travel information on its website www.gov.uk/foreign-travel-advice which UK citizens are recommended to consult before booking and in good time before departure. US citizens are advised to check State Department advice on www. travel.state.gov/destination. Citizens of other countries should check their government's relevant advice.
8. Surcharges:
8.1 The price of your holiday is subject to surcharges in the event of any change in our transportation costs or in dues, taxes or fees payable for services such as landing taxes or embarkation or disembarkation fees at ports or airports or in the exchange rates which have been used to calculate the cost of your holiday. Even in these cases, we will absorb an amount equivalent to 2% of the holiday price, excluding any amendment charges. Only amounts in excess of this 2% will be surcharged. If this means paying more than 8% on the tour price you will be entitled to cancel your tour and receive a full refund with the exception of any amendment charges or alternatively purchase another tour from us as referred to in clause 6 "Changes and Cancellation by us".

8.2 We promise not to levy a surcharge within 30 days of departure. No refund will be payable during this period either.
9. Changes by You:
9.1 Should you wish to make any changes to your confirmed holiday, you must notify us in writing as soon as possible. Whilst we will endeavour to assist, we cannot guarantee we will be able to meet any such requests. Where we can, an amendment fee of USD 50.00 (or equivalent) per person will be payable together with any costs incurred by ourselves and any costs or charges incurred or imposed by any of our suppliers. A change of holiday dates will normally be treated as a cancellation of the original booking and rebooking in which case cancellation charges will apply. Changes may result in the recalculation of the holiday price where, for example, the basis on which the price of the original holiday was calculated has changed.

9.2 If any member of your party is prevented from travelling, the person(s) concerned may usually be able to transfer their place to someone else (introduced by you) providing we are notified not less than two weeks before departure. Where a transfer to a person of your choice can be made, all costs and charges incurred by us and/or incurred or imposed by any of our suppliers as a result together with an amendment fee of USD50.00 (or equivalent) must be paid before the transfer can be effected. Any overdue balance payment must also be received. For flight inclusive bookings, you must pay the charges levied by the airline concerned. As most airlines do not permit name changes after tickets have been issued for any reason, these charges are likely to be the full cost of the flight.
10. Special Requests and Medical Conditions/Disabilities:
10.1 If you have any special request, you must advise us at the time of booking. Although we will endeavour to pass any reasonable requests on to the relevant supplier, we regret we cannot guarantee any request will be met. Failure to meet any special request will not be a breach of contract on our part. Confirmation that a special request has been noted or passed on to the supplier or the inclusion of the special request on your confirmation invoice or any other documentation is not confirmation that the request will be met. Unless and until specifically confirmed, all special requests are subject to availability. For your own protection, you should obtain confirmation in writing that a special request will be complied (where it is possible to give this) where it is important to you.

10.2 We regret we cannot accept any conditional bookings, i.e. any booking which is specified to be conditional on the fulfilment of a particular request. All such bookings will be treated as "standard" bookings subject to the above provisions on special requests.

10.3 If you or any member of your party has any medical condition or disability which may affect your holiday or has any special requirements as a result of any medical condition or disability (including any which affect the booking process), please tell us before you confirm your booking so that we can assist you in considering the suitability of the arrangements and/or making the booking. In any event, you must give us full details in writing at the time of booking and whenever any change in the condition or disability occurs. You must also promptly advise us if any medical condition or disability which may affect your holiday develops after your booking has been confirmed. If we reasonably feel unable to properly accommodate the particular needs of the person concerned, we must reserve the right to decline their reservation or, if full details are not given at the time of booking or the condition / disability develops after booking, cancel when we become aware of these details.

10.4 The Company reserves the right at any time to require the Client to produce a doctor's certificate certifying that the Client is fit to participate in the tour. Travel, horse-riding and trekking questionnaires might also be required.

10.5 By booking you acknowledge that you understand the potential risks and hazards that can be involved in tours of this kind to often remote and inhospitable locations. Such risks may increase the risk of injury or illness, loss or damage to property, discomfort and inconvenience.
11. Liability:
11.1 We promise to make sure that the holiday arrangements we have agreed to make, perform or provide as applicable as part of our contract with you are made, performed or provided with reasonable skill and care. This means that, subject to these booking conditions, we will accept responsibility if, for example, you suffer death or personal injury or your contracted holiday arrangements are not provided as promised or prove deficient as a result of the failure of ourselves, our employees, agents or suppliers to use reasonable skill and care in making, performing or providing, as applicable, your contracted holiday arrangements. Please note, it is your responsibility to show that reasonable skill and care has not been used if you wish to make a claim against us. In addition, we will only be responsible for what our employees, agents and suppliers do or do not do if they were at the time acting within the course of their employment (for employees) or carrying out work we had asked them to do (for agents and suppliers).

11.2 We will not be responsible for any injury, illness, death, loss (including loss of enjoyment or possessions), damage, expense, cost or other sum or claim of any description whatsoever which results from any of the following: - the act(s) and/or omission(s) of the person(s) affected or any member(s) of their party or the act(s) and/or omission(s) of a third party not connected with the provision of your holiday and which were unforeseeable or unavoidable or 'force majeure' as defined in clause 13 below

11.3 Please note, we cannot accept responsibility for any services which do not form part of our contract. This includes, for example, any additional services or facilities which your hotel or any other supplier agrees to provide for you where the services or facilities are not advertised by us and we have not agreed to arrange them as part of our contract and any excursion you purchase whilst on holiday. In addition, regardless of any wording used by us on our website, in any advertising material or elsewhere, we only promise to use reasonable skill and care as set out above and we do not have any greater or different liability to you.

11.4 The promises we make to you about the services we have agreed to provide or arrange as part of our contract - and the laws and regulations of the country in which your claim or complaint occurred - will be used as the basis for deciding whether the services in question had been properly provided. If the particular services which gave rise to the claim or complaint complied with local laws and regulations applicable to those services at the time, the services will be treated as having been properly provided. This will be the case even if the services did not comply with the laws and regulations of the UK which would have applied had those services been provided in the UK. The exception to this is where the claim or complaint concerns the absence of a safety feature which might lead a reasonable holiday maker to refuse to take the holiday in question. Please note, however, our obligation is to exercise reasonable skill and care as referred to in clause 11.1. We do not make any representation or commitment that all services will comply with applicable local laws and regulations and failure to comply does not automatically mean we have not exercised reasonable skill and care.

11.5 Where we are found liable for loss of and/or damage to any luggage or personal possessions (including money), the maximum amount we will have to pay you is £500 (or equivalent) per person affected unless a lower limitation applies to your claim under this clause or clause 11.6 below. You must ensure you have appropriate travel insurance to protect your personal belongings. For all other claims which do not involve death or personal injury, if we are found liable to you on any basis the maximum amount we will have to pay you is twice the price (excluding amendment charges) paid by or on behalf of the person(s) affected in total unless a lower limitation applies to your claim under clause 11.6 below. This maximum amount will only be payable where everything has gone wrong and you have not received any benefit at all from your holiday.

11.6 Where any claim or part of a claim (including those involving death or personal injury) concerns or is based on any travel arrangements (including the process of getting on and/or off the transport concerned) provided by any air, sea or rail carrier to which any international convention or EU regulation applies, our liability (including the maximum amount of compensation we will have to pay you, the types of claim and the circumstances in which compensation will be payable) will be limited as if we were the carrier in question as referred to below. The most we will have to pay you for that claim or that part of a claim if we are found liable to you on any basis is the most the carrier concerned would have to pay under the international convention or regulation which applies to the travel arrangements in question (for example, the Warsaw Convention as amended or unamended and the Montreal Convention for international travel by air and/or for airlines with an operating licence granted by an EU country, the EC Regulation on Air Carrier Liability No 889/2002 for national and international travel by air, the Athens Convention for international travel by sea (as amended by the 2002 Protocol where applicable) and COTIF, the Convention on International Travel by Rail). Where a carrier would not be obliged to make any payment to you under the applicable international convention or regulation in respect of a claim or part of a claim, we similarly are not obliged to make a payment to you for that claim or part of the claim. When making any payment, we are entitled to deduct any money which you have received or are entitled to receive from the carrier for the complaint or claim in question. Copies of the applicable international conventions and regulations are available from us on request.

11.7 Please note, we cannot accept any liability for any damage, loss, expense or other sum(s) of any description (1) which on the basis of the information given to us by you concerning your booking prior to our accepting it, we could not have foreseen you would suffer or incur if we breached our contract with you or (2) which did not result from any breach of contract or other fault by ourselves or our employees o,r where we are responsible for them, our suppliers. Additionally we cannot accept liability for any business losses (including without limitation, self employed loss of earnings).
12. Travel Insurance and emergency contact (next of kin):
12.1. We consider adequate travel insurance to be essential. You must give details in writing of your insurance policy (insurer, policy number, 24 hour emergency assistance contact details).

12.2 Please read your policy details carefully and take them with you on tour. It is your responsibility to ensure that the insurance cover you purchase is suitable and adequate for your particular needs. We do not check insurance policies. Tours can be hazardous by nature and you should ensure that such insurance fully covers all personal requirements including medical expenses, repatriation, helicopter rescue and air ambulance in the event of accident or illness.

12.3. You must give to us the name, address and telephone numbers of your emergency contact (next of kin) or persons to be notified in the event of an emergency.
13. Force Majeure:
Except where otherwise expressly stated in these booking conditions, we regret we cannot accept liability or pay any compensation where the performance or prompt performance of our obligations under our contract with you is prevented or affected by or you otherwise suffer any damage, loss or expense of any nature as a result of "force majeure". In these booking conditions, "force majeure" means any event which we or the supplier of the service(s) in question could not, even with all due care, foresee or avoid. Such events may include, whether actual or threatened, war, riot, civil strife, terrorist activity, industrial dispute, natural or nuclear disaster, adverse weather conditions, fire and all similar events outside our control.
14. Our Tour Leader:
On our escorted group tours we will appoint a Tour Leader who will represent the company and assist with the proper and safe running of you and your fellow participants' tour. You must accept the decisions of the Tour Leader who shall have the discretion to make decisions and take action which may impact on your tour. If your physical condition or behaviour is such as to affect the well-being of yourself or other members of the group or the enjoyment of other members of the group, you may be asked to leave the tour without any right to refund. If you wish to leave the group temporarily, you will be asked to sign a release form.
15. Safety Standards:
Please note, it is the requirements and standards of the country in which any services which make up your holiday are provided which apply to those services and not those of the UK. As a general rule, these requirements and standards will not be the same as the UK and may often be lower.
16. Complaints:
16.1. In the unlikely event that you have any reason to complain or experience any problems with your holiday whilst away, you must immediately inform our local representative or agent (if we have one) and the supplier of the service(s) in question. Any verbal notification must be put in writing and given to our Tour Leader/representative/agent and the supplier concerned (as applicable) as soon as possible. If we do not have or you cannot contact our Tour Leader or local representative or agent and any complaint or problem is not resolved to your satisfaction, you must contact us using the contact details we have provided you with during your trip, giving us full details and a contact number. Until we know about a complaint or problem, we cannot begin to resolve it. Most problems can be dealt with quickly. If you remain dissatisfied, however, you must write to us within 7 days of the tour end date giving your booking reference and full details of your complaint. Only the party leader should write to us. For all complaints and claims which do not involve death, personal injury or illness, we regret we cannot accept liability if you fail to notify the complaint or claim entirely in accordance with this clause.
17. Suppliers:
Many of the services which make up your holiday are provided by independent suppliers. Those suppliers provide these services in accordance with their own terms and conditions. Some of these terms and conditions may limit or exclude the supplier's liability to you, usually in accordance with applicable international conventions (see clause 11.6). Copies of the relevant parts of these terms and conditions and of the international conventions are available on request from ourselves or the supplier concerned.
18. Financial Protection:

18.1 We hold an Air Travel Organiser's Licence issued by the Civil Aviation Authority (ATOL number 5975). When you buy an ATOL protected flight or flight inclusive holiday from us, you will receive an ATOL Certificate. This lists what is financially protected, where you can get information on what this means for you and who to contact if things go wrong. We, or the suppliers identified on your ATOL Certificate, will provide you with the services listed on the ATOL Certificate (or a suitable alternative). In some cases, where neither we nor the supplier are able to do so for reasons of insolvency, an alternative ATOL holder may provide you with the services you have bought or a suitable alternative (at no extra cost to you). You agree to accept that in those circumstances the alternative ATOL holder will perform those obligations and you agree to pay any money outstanding to be paid by you under your contract to that alternative ATOL holder. However, you also agree that in some cases it will not be possible to appoint an alternative ATOL holder, in which case you will be entitled to make a claim under the ATOL scheme (or your credit card issuer where applicable). If we, or the suppliers identified on your ATOL certificate, are unable to provide the services listed (or a suitable alternative, through an alternative ATOL holder or otherwise) for reasons of insolvency, the Trustees of the Air Travel Trust may make a payment to (or confer a benefit on) you under the ATOL scheme. You agree that in return for such a payment or benefit, you assign absolutely to those Trustees any claims which you have or may have arising out of or relating to the non-provision of the services, including any claim against us, the travel agent or your credit card issuer where applicable. You also agree that any such claims may be reassigned to another body, if that other body has paid sums you have claimed under the ATOL scheme. Please note: Not all holiday or travel services offered and sold by us will be protected by the ATOL scheme *The air inclusive holidays and flights we arrange are ATOL protected providing they are made available in the UK. For further information, visit the ATOL website at www.atol.org.uk.
18.2 The Association of Bonded Travel Organisers Trust Limited (ABTOT) provides financial protection under The Package Travel and Linked Travel Arrangements Regulations 2018 for Nomadic Trails, and in the event of their insolvency, protection is provided for the following:
1. non-flight packages and
2. flight inclusive packages that commence outside of the EEA, which are sold to customers outside of the EEA.
ABTOT cover provides for a refund in the event you have not yet travelled or repatriation if you are abroad.
Please note that bookings made outside the EEA are only protected by ABTOT when purchased directly with Nomadic Trails.
In the unlikely event that you require assistance whilst abroad due to our financial failure, please call our 24/7 helpline on +44 (0) 1702 811397 and advise you are a customer of an ABTOT protected travel company.
19. Flights

19.1 In accordance with EU Regulation No 2111/2005, we are required to bring to your attention the existence of a "Community list" which contains details of air carriers who are subject to an operating ban within the EU. The Community list is available for inspection at http://ec.europa.eu/transport/air-ban/list_en.htm

19.2 We are also required to advise you of the actual carrier(s) (or, if the actual carrier(s) is not known, the likely carrier(s)) that will operate your flight(s) at the time of booking. Where we are only able to inform you of the likely carrier(s) at the time of booking, we will inform you of the identity of the actual carrier(s) as soon as we become aware of this. Any change to the operating carrier(s) after your booking has been confirmed will be notified to you as soon as possible.

19.3 If the carrier with whom you have a confirmed reservation becomes subject to an operating ban as above as a result of which we/ the carrier are unable to offer you a suitable alternative the provisions of clause 9 "Changes and cancellation by us" will apply. We are not always in a position at the time of booking to confirm the flight timings which will be used in connection with your flight. The flight timings shown in our brochure, on our website and/or detailed on your confirmation invoice are for guidance only and are subject to alteration and confirmation. Flight timings are outside our control. They are set by airlines and are subject to various factors including air traffic control restrictions, weather conditions, potential technical problems and the ability of passengers to check in on time.

19.4 Specific instructions relating to departure and travel arrangements will be sent with your air or other travel tickets approximately 2 weeks before departure. You must accordingly check your tickets very carefully immediately on receipt to ensure you have the correct flight times. It is possible that flight times may be changed even after tickets have been despatched - we will contact you as soon as possible if this occurs.

19.5 Any change in the identity of the carrier, flight timings, and/or aircraft type (if advised) will not entitle you to cancel or change to other arrangements without paying our normal charges except where specified in these conditions.
20. Delay and Denied Boarding Regulations:
20.1 In the event of any flight delay or cancellation at your UK or overseas point of departure, the airline is responsible for providing such assistance as is legally required by the Denied Boarding Regulations (see below). The ferry, tunnel or rail operator is similarly responsible in relation to any delayed or cancelled sea crossing or international rail departure. Except where otherwise stated in our brochure or on our website, we regret we cannot provide any assistance in such circumstances other than information and advice to the extent we are in a position to do so.

20.2 We regret we are not in a position to offer you any assistance in the event of delay at your outward or homeward point of departure. Any airline concerned may however provide refreshments etc. We cannot accept liability for any delay which is due to any of the reasons set out in clause 11.2 of these Booking Conditions (which includes the behaviour of any passenger(s) on the flight who, for example, fails to check in or board on time.

20.3 If your flight is cancelled or delayed, your flight ticket is downgraded or boarding is denied by your airline, depending on the circumstances, the airline may be required to pay you compensation, refund the cost of your flight and/or provide you with accommodation and/or refreshments under EC Regulation No 261/2004 - the Denied Boarding Regulations 2004. Where applicable, you must pursue the airline for the compensation or other payment due to you. All sums you receive or are entitled to receive from the airline concerned by virtue of these Regulations represent the full amount of your entitlement to compensation or any other payment arising from such cancellation, delay, downgrading or denied boarding. This includes any disappointment, distress, inconvenience or effect on any other arrangements. The fact a delay may entitle you to cancel your flight does not automatically entitle you to cancel any other arrangements even where those arrangements have been made in conjunction with your flight. We have no liability to make any payment to you in relation to the Denied Boarding Regulations or in respect of any flight cancellation or delay, downgrading of any flight ticket or denial of any boarding as the full amount of your entitlement to any compensation or other payment (as dealt with above) is covered by the airline's obligations under the Denied Boarding Regulations. If, for any reason, we make any payment to you or a third party which the airline is responsible for in accordance with the Denied Boarding Regulations, you must, when requested, assign to us the rights you have or had to claim the payment in question from the airline. If your airline does not comply with these rules you may complain to the Civil Aviation Authority on +44 (0) 20 743 6888 or by e-mail to passengercomplaints@caa.co.uk or see www.caa.co.uk – Referring Your Complaint to the CAA .

21. Excursions/Activities:

21.1 We may provide you with information (before departure and/or when you are on tour) about activities and excursions which are available in the area you are visiting. We have no involvement in any such activities or excursions which are neither run, supervised, controlled nor endorsed in any way by us. They are provided by local operators or other third parties who are entirely independent of us. We cannot accept any liability on any basis in relation to such activities or excursions and the acceptance of liability contained in clause 11.1 of our booking conditions will not apply to them.

21.2 We cannot guarantee accuracy of information given in relation to such activities or excursions as these services are not under our control.

22. Brochure/Website/advertising material:

The information contained in our brochure, on our website, in our detailed itineraries, travel essentials guides, pre-departure information, suggested packing lists, travel wallets and in our other advertising material is believed correct to the best of our knowledge at the time of printing or publication. However, errors may occasionally occur and information may subsequently change. You must therefore ensure you check all details of your chosen holiday (including the price) with us [or your travel agent] at the time of booking and where practical to do so we advise you to independently verify information which is provided for guidance only.
23. Personal Data
All personal data will be handled as per the terms specified in our Privacy Policy which can be found here - 
Updated: 12/2018