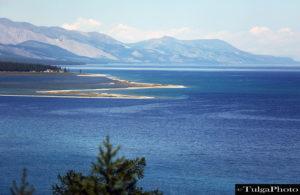 Formed around 7 million years ago this lake is the crown jewel of Khuvsgul province, Dark Blue Pearl, locals call it as it is 137km long 32 wide, and 262m deep, a freshwater lake that lies in north Mongolia with larch and pine tree mountains around. It is one of the must-visit destinations in Mongolia.
Containing 1 percent of the whole World's freshwater, Khuvsgul lake also sustains its surrounding area rich with both flora and fauna.
The Blue Pearl is also perfect for a boat trip from one shore to the other for a visit to a small reindeer herder family.
Khuvsgul Lake (2)
Tours that include this destination
These are our trips that include this stunning destination in the itinerary.