Book your lifetime holiday to reindeer tribe Mongolia: info@nomadictrails.com
In the secluded wilderness of Northern Mongolia, the Dukha tribes live peacefully herding their reindeer. Their every action offers deep insight into their nomadic way. This blog offers insight into who these nomadic people are and exactly how to visit the Mongolian Reindeer Herders.
Who are the Mongolian Reindeer Herders?
The Dukha, known to the Mongolians as Tsaatan are Mongolia's only Reindeer herders. "Tsaatan" is someone who has reindeer/s, so the more accurate term would be Tsaachin. "Dukha" term in English means Reindeer Herder.
The reindeer herders have a very long history. They are genetically connected to these Uigur people, one of the branches of many Turkic-origin tribes in Mongolia like Urainkhai. The Tsaatan language is of Ancient Turkic origin as well. It is an endangered language with only about 500 people that speak it in the North of Mongolia.
During the significant split of the border in the 1950s, most of the Tuvan people were left on the Russian side of the border while the others settled in Mongolia's far-northern province.
For many hundreds of years, Tsaatan people have herded reindeer and even now pass on their nomadic tradition over to the next generations. So imagine being a part of this rich culture when you visit the Reindeer Herders in Mongolia.
What are East and West Taiga?
When the reindeer people first settled in the Taiga the river Shishged was impossible to cross during the warm season. So, gradually they got divided into two parts, one on the east riverbank and the rest on the west.
Even if there is a bridge now, that you can cross the river with, the people are still divided and named "East Taiga Tsaatan" and "West Taiga Tsaatan".
You can visit East or West Taiga Reindeer Herders in Mongolia, as the only notable difference between said tribes is their camping location.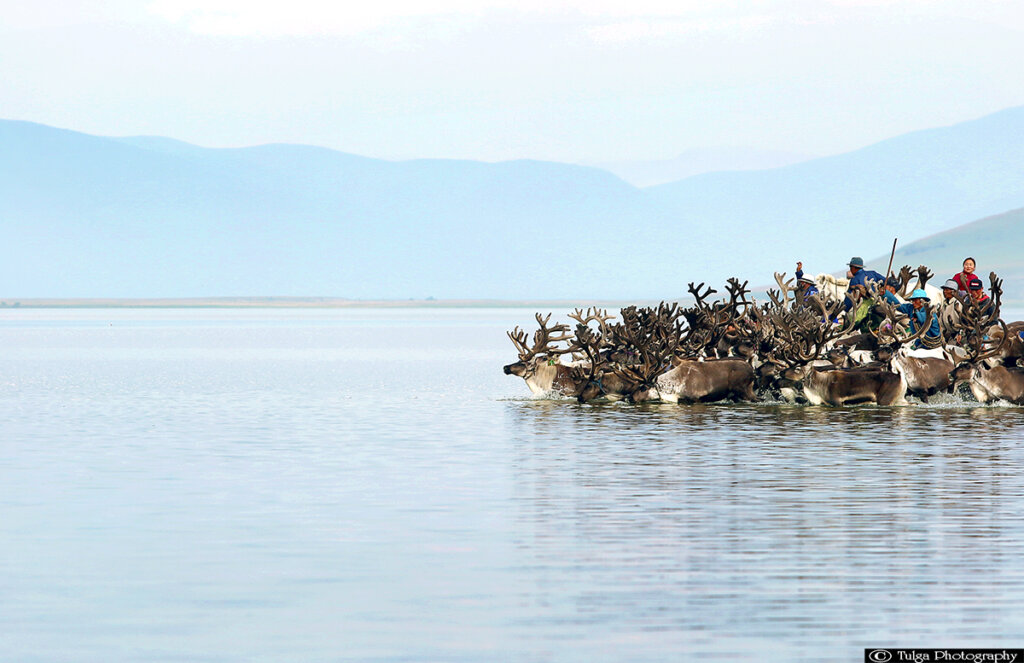 Book your lifetime holiday to reindeer tribe Mongolia: info@nomadictrails.com
Where are the Reindeer herder tribes located?
The reindeer herders are located in Ulaan Uul & Tsagaan Nuur towns in Khuvsgul Province in the northern parts of Mongolia. As the reindeer tribes have a nomadic culture, it is essential for them to move from one camping place to another.
Moreover, during summertime, some reindeer herders, only 2-3 families, move temporarily to Khuvsgul Lake, one of the most sought destinations for travelers during the tourist season.
While the majority of of the Tuva people live in Russia today, they still have relatives on the Mongolian side of the border.
How to visit the Mongolian Reindeer Herders?
Traveling to the Northern region and visiting the Reindeer Herders of Mongolia will take you a little less than two weeks. Above all comfort is key to traveling, so to balance out the driving on local dirt roads this kind of length is optimal. The Taiga is a vulnerable and sensitive location. So our advice is, to make sure to respect the local community and nature and travel with experienced Tour Operators.
Nomadic Trails have been organizing tours to the Reindeer Herders since 2007. Our expertise offers you a great opportunity to easily overcome the common difficulties that may arise in traveling to this sensitive location. For example the remoteness, bad road conditions, poor connections with local communities, or being inexperienced in conducting and coordinating a horseback riding trip.
View a close-up video of horseback riding with the Dukha people here.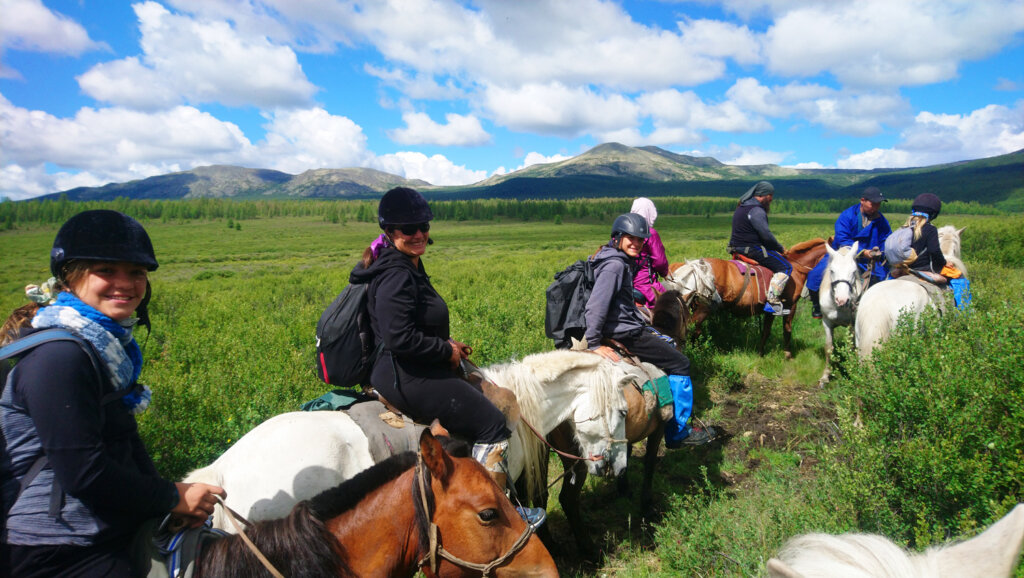 Book your lifetime holiday to reindeer tribe Mongolia: info@nomadictrails.com
Best trip itinerary to visit Reindeer Herders
Days 1-2 Ulaanbaatar city to Murun town.
After your arrival in Ulaanbaatar city, the capital, we will take a local flight to Murun town, the center of Khuvsgul province in the northern parts of Mongolia. There are various flight schedules set out for each month by the two local airlines, so it is best to stay in the capital for one night then take the flight north. This way you can also get to get rid of the time difference as well as your jetlag.
Days 3-4 Murun town to Ulaan Uul town to Tsagaan Nuur town
After that, we will go on a 4×4 Jeep drive towards and through the beautiful Darkhad depression via two big passes and two of the three "sum"s or smaller towns located there. Going forward we will go as close to the Taiga region with our cars to Khogorog river valley.
Days 5-7 Taiga / Reindeer Tribe camp
Each season tribes with their nomadic nature change their location for more pasture for their reindeers as well as for cover from wind and cold during the colder seasons.
Horse riding is essential to visiting the Tsaachin, except in wintertime when it is possible to go by car. So, you should be prepared to ride horses for between 3-9 hours, depending on the location of the camps.
You will find spring camps are always the closest ones to ride a horse for 3-4 hours easy walking pace. While summer camps are always the longest ones to reach, 7-9 hours away but never the less rewarding and mysterious.
Some people find it easy to ride Mongolian small horses which we will be riding. Saddles are always important and the local horse guides have two options available. One, bigger style saddles and a rounder cushion. Second, a Mongolian Wooden saddle is available on quite rare occasions and is not recommended for first-time riders. Of course, there are breaks and lunches during our ride. The horses we will be riding are calm and experienced going to the Taiga. Above all, Nomadic Trails team members are experienced and trained in coordinating a horse-riding trip.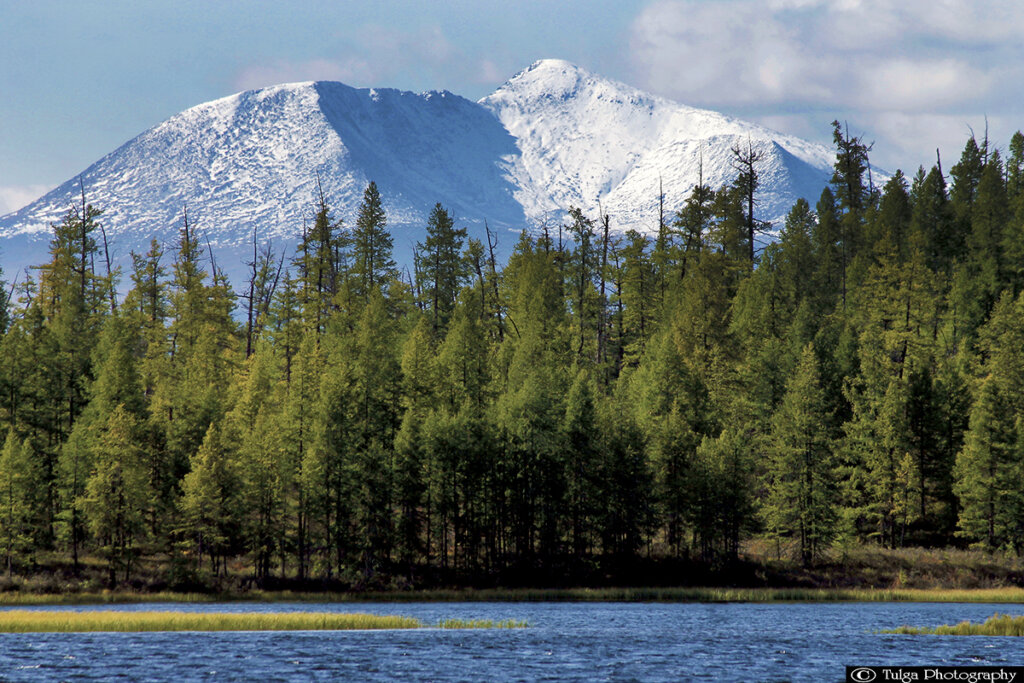 All the people who have never ridden a horse before ended up happy and content with their riding experiences. It is all about using your born instincts and following the detailed instructions of your tour leader.
Note: If you are riding to East Taiga, you will need to pass a high pass with the other side steep. So to visit East Taiga you need to have a basic riding lesson at least.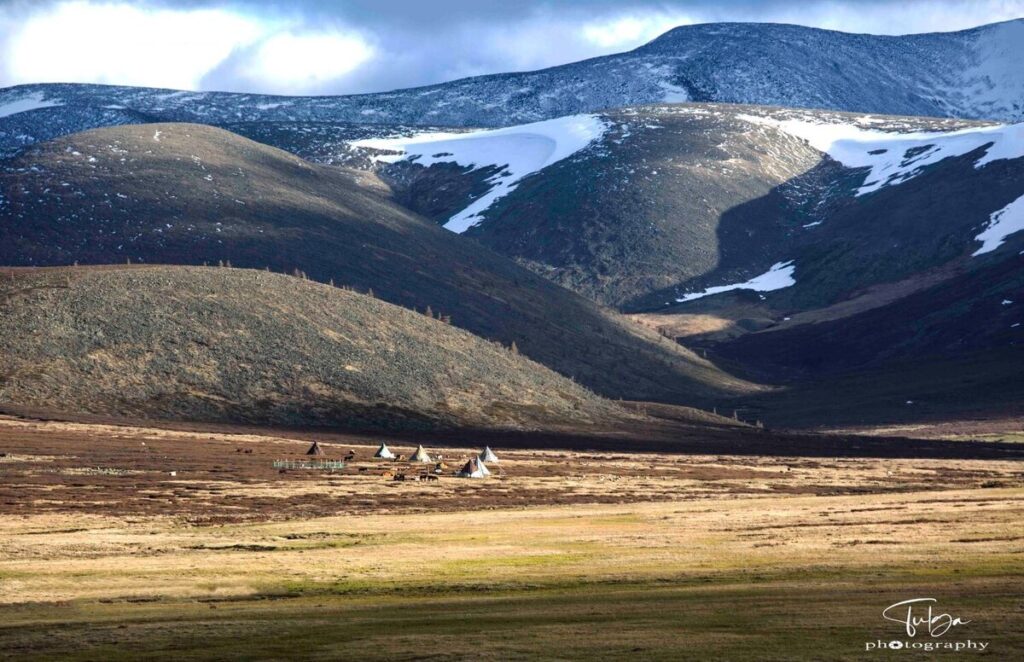 Day 7-9 Khogorog river valley to Khuvsgul Lake
Khuvsgul Lake crowned the Blue Pearl of Mongolia is in the area, in short, it is a loss not to visit. On our 13-14 hour drive back which will be divided several times, we will head slightly north and relax at the lakeshore,
Day 9-13 Khuvsgul Lake to Murun town to Ulaanbaatar to Departure
After relaxing for two days at Khuvsgul Lake we will return to Murun town. Afterward, we take a local flight back to the capital.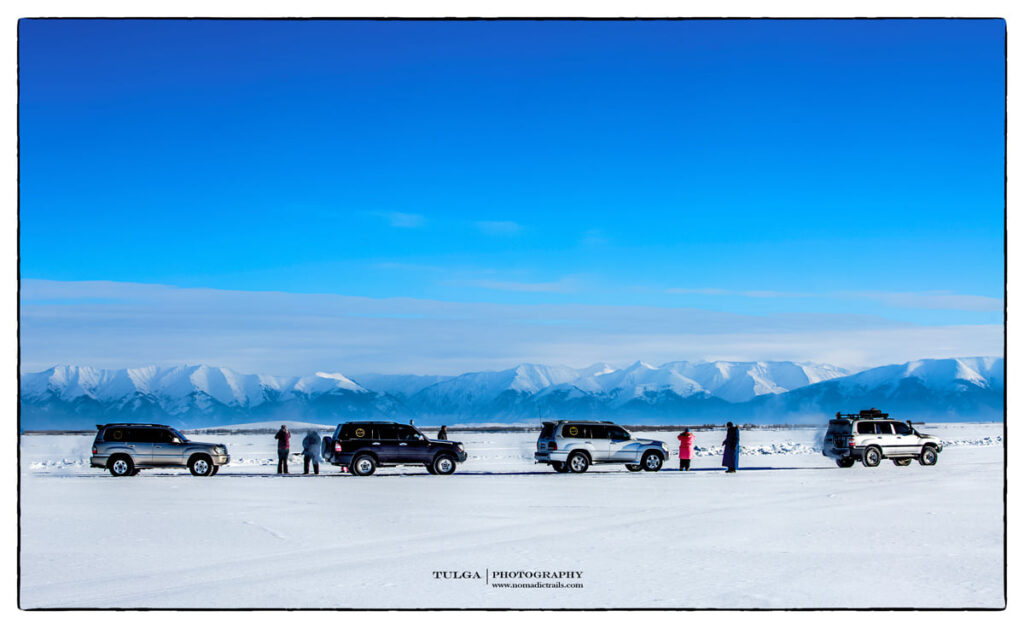 Book your lifetime holiday to reindeer tribe Mongolia: info@nomadictrails.com
How to self-guide and visit the Tsaatan or Dukha Tribes
There are a few ways you can visit the tribes on your own.
For example, if you are starting from Murun town, during summertime, there are Russian mini vans that depart in the evening from a nearby open market. However, please note there are no constant local transports to Ulaan Uul or Tsagaan Nuur towns all year round. You need to meet the driver beforehand to find out the time they will set off.
There are a few mini vans that operate during other seasons than summer. Drivers put advertisements on Facebook groups or leave mobile phone numbers at the bus stop near the open market.
Book your lifetime holiday to reindeer tribe Mongolia: info@nomadictrails.com