These horseback riding tips were written by Fiona Cowie, who traveled with us on the "Horseback riding tour" Mongolia previously. She is happy to share her experience from a travelers point of view with Nomadic Trails.
Fiona has ridden for 9-10 days in North Mongolia to visit the Reindeer Herders tribe. The riding holiday was a 2-week journey in total. View the horse riding tour close up here.
Riding a horse in different terrains:
It is recommended you get some riding practice in before you go to minimize the aches obtained from working seldom-used muscles! Do not worry so much about your technique etc as Mongolian riding is quite different from our European style riding – but a good seat and being comfortable at all paces will definitely make your holiday more enjoyable. If you don't get any practice in you may ache for a day or two!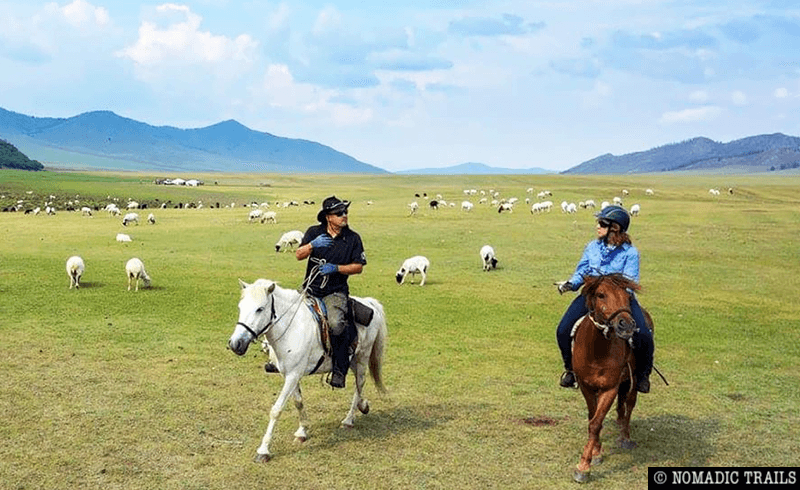 Packing tips for horse riding:
Keep your packing to essentials – especially if you are taking an internal flight where there are weight limits. But do prepare for all seasons!
A good sleeping bag is essential – go for a little warmer as you can always unzip it, but there is nothing worse than being too cold to sleep.
A light rain jacket (but not a flappy one which could frighten the horses) and rain pants if you don't like getting bit wet and cold.
Light gloves are excellent for not only keeping your hands warm but also keeping them from being sunburned.
Sunscreen
Small torch
Lip balm and a good moisturizer. The wind can really dry your skin out.
Bandanna – keeps the wind and dust away. Has millions of uses!
Layers of clothing that can be added or removed depending on conditions. One day you may need a T-shirt, the next a warm fleece! Long sleeve cotton shirts are great for riding in – and keeping the sun off.
Warm fleece
Wet wipes – good for washing the dirt away.
Small gifts from home to share with your new friends or as small gifts – even some photos of your life back home – especially if you live on a farm or with a Hard riding hat (not something you can pick up in Mongolia) Riding boots (with a small heel but not with slippery soles as you may need to walk on rough ground) Sunglasses Small travel towel.
First aid kit (paracetamol, antihistamine, anti-inflammatory, antibiotics, Immodium, blister relief – maybe something to ease any riding aches and pains!)
Food:
Nomadic Trails provide some lovely nourishing food and you may be lucky to share some meals with local families -enjoy these! But if you have food intolerances it may be wise to pack some snacks. But please try a little of what you are offered – not only as it is polite but also you may just find you like some of the different foods!
Other horseback riding tips in Mongolia:
Don't forget your sense of humour and a 'go with the flow attitude' – treat your itinerary as only a guide – changing conditions may mean changes to the itinerary – trust your guide's advice. You may end up with a new trip highlight that wasn't even planned for!
Tell your friends and family you may not always be contactable. Main towns may have wi-fi and many small towns have phone coverage but you are planning on getting away into the countryside so you may not have either for several days at a time. Enjoy the freedom!