Here, we've gathered all the necessary information you should know before planning and booking your trip to the Golden Eagle Festival in Mongolia. For example, the three different festival dates and locations, festival program, food, toilets, and more.
It will also help you to understand the local communities here so you can be respectful to different cultures as it very important when it comes to tourism.
1. What is the Golden Eagle Festival?
The Golden Eagle Festival is a Mongolian annual two-day Eagle hunting festival organized by the local Golden Eagle Hunter's Association. Since the very first festival held in 1999 in Ulgii town in western Mongolia, it has continuously been organized annually over the years.
2. When is the Golden Eagle Festival?
There are 3 different Golden Eagle Festivals. Two in September and one in October.
Nomadic Games Eagle Festival is on the 15-16 September in Altai Soum or town.
Sagsai or Tolbo Eagle Festival is on the 20-21 September
Main Eagle Festival is organized the first weekend of October in Ulgii town
3. Why are there different Golden Eagle festivals?
Over the years both the number of eagle trainers, participants, and visitors increased tremendously. This resulted in a need for the festival to expand more and more. Of course, there is also a limitation of the local town, and the local flight capacity from Ulaanbaatar to Bayan-Ulgii province limits the size of the festival. In the end, these problems are being solved with the Golden Eagle festival happening at different periods of time in autumn.
Now, there is a size difference between these Festivals. The main festival in October being the biggest, meanwhile, the other 2 festivals are smaller and more for locals to enjoy.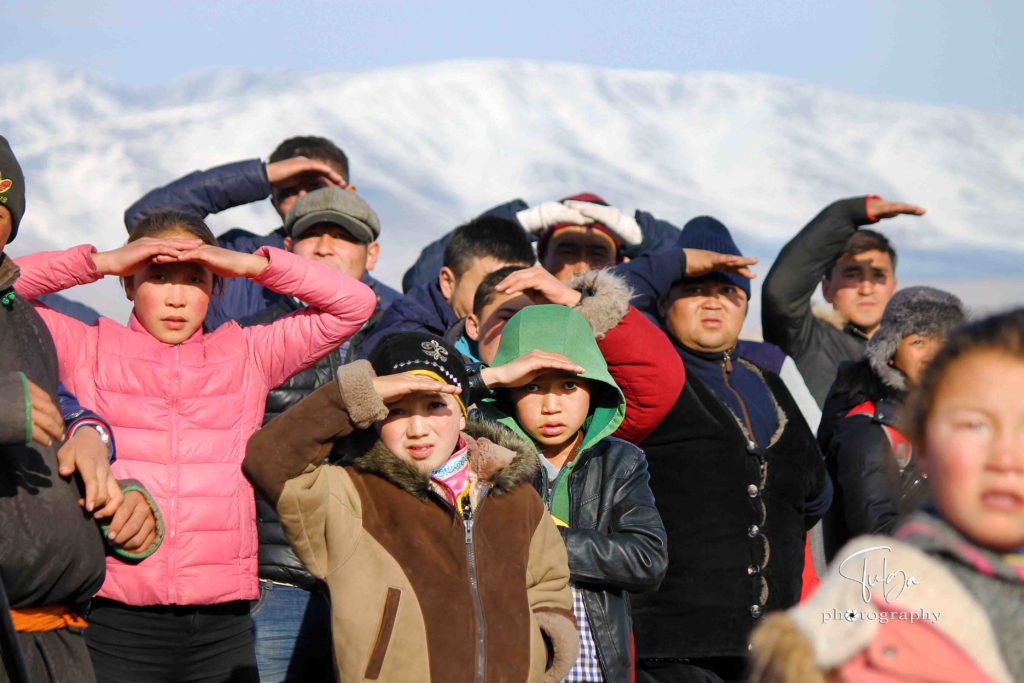 4. Why Golden Eagle Festival in September and October?
After the very first snowfall in autumn, many trails of footprints of wild animals show up on the snow. This declares the start of the hunting season for hunters with golden eagles.
During the old times, at the end of the day with the first snowfall, which was mainly in September and October, the hunters gathered together to have a ceremony that allowed them to socialize with other hunters.
5. Why is it called Golden Eagle Festival?
There are 60 species of Eagles. From all the species the Golden Eagle is the most beautiful and most widely distributed species of eagle.
The Golden Eagle has been trained and used for hunting over many hundreds of years in Central Mongolia. Since 1999, the event was initiated and started for all the Eagle hunters in Mongolia.
There are 2 different competitions at the festival entirely dedicated to these hunting Eagles.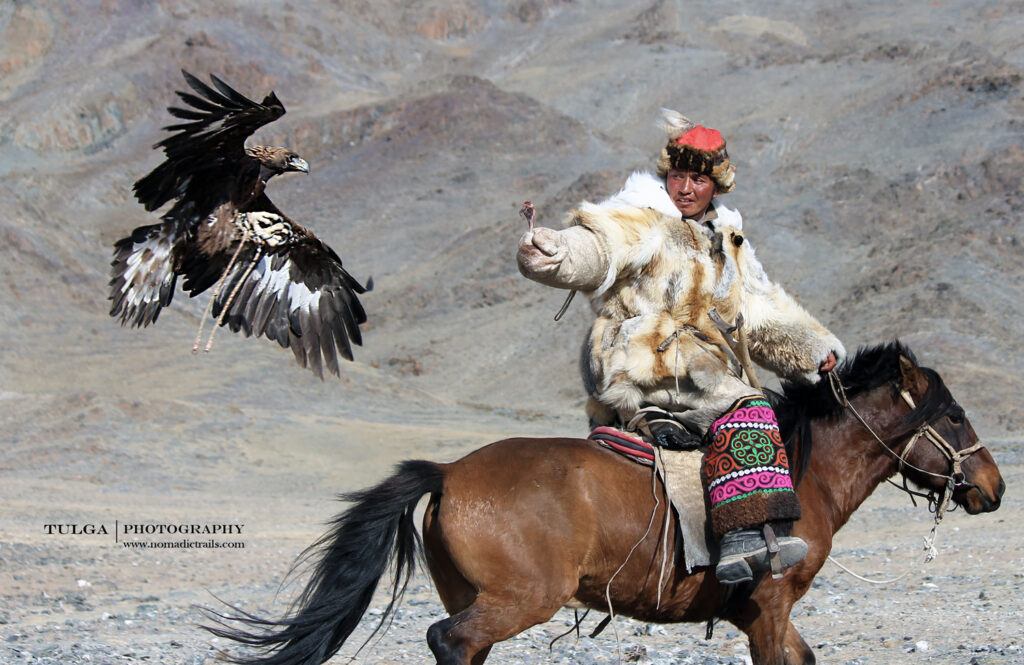 6. How long does the festival usually last?
This festival is a 2 full-day even with many different tournaments related to Golden Eagles and their hunters, horses, camels, and archery.
7. Where is Golden Eagle Festival?
Ulgii town, west of Mongolia. 1.45-3hour domestic local flight away from Ulaanbaatar city. You need to drive out from Ulgii town airport for 16 km to arrive at the exact spot of the festival.
Nomadic Games Eagle Festival- 3hour drive from Ulgii town at Altai town.
Sagsai /Tolbo Lake Festival- 1.5hour drive from Ulgii town.
8. What happens at the Golden Eagle Festival?
Opening Ceremony with Parade
Eagle competition- Fly the eagle from on top of the hill to catch the bait for the whole day, depending on the number of Eagle masters.
Kukbar- Goat skin competition-Tug of War;
Picking up coin while on the gallop
Kiz-Kuar Equine game -woman chases the man to whip!
Mongolian archery,
Camel race,
Award giving ceremony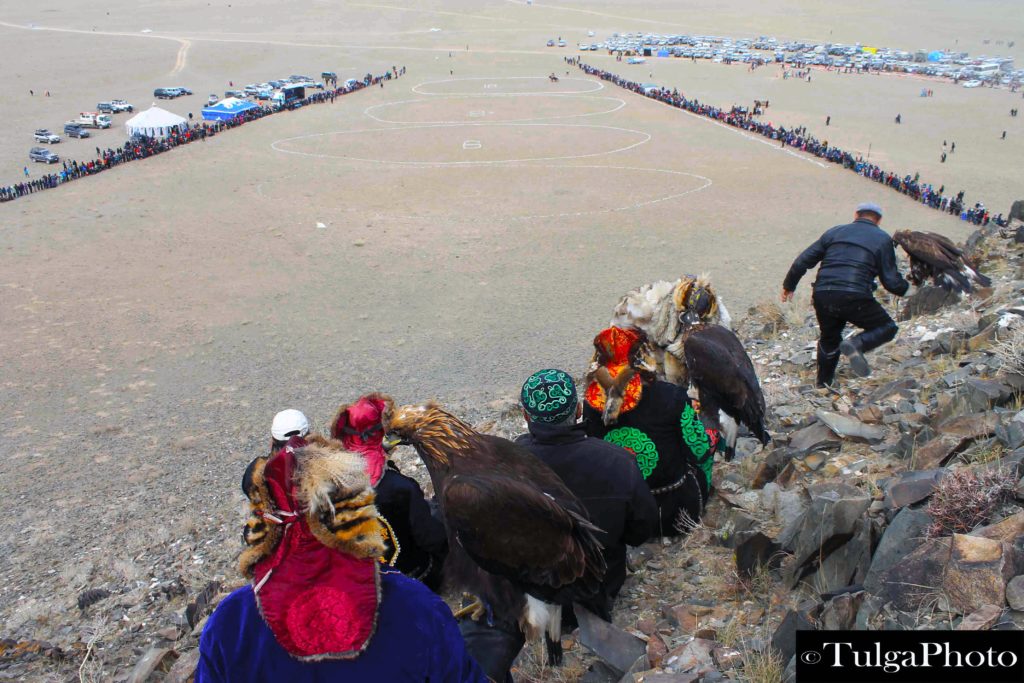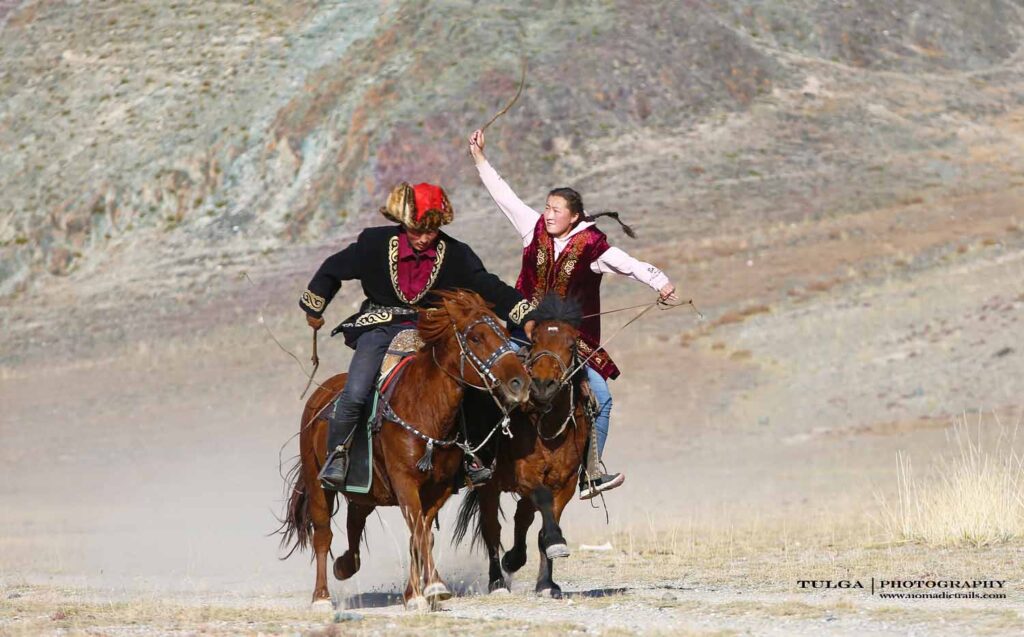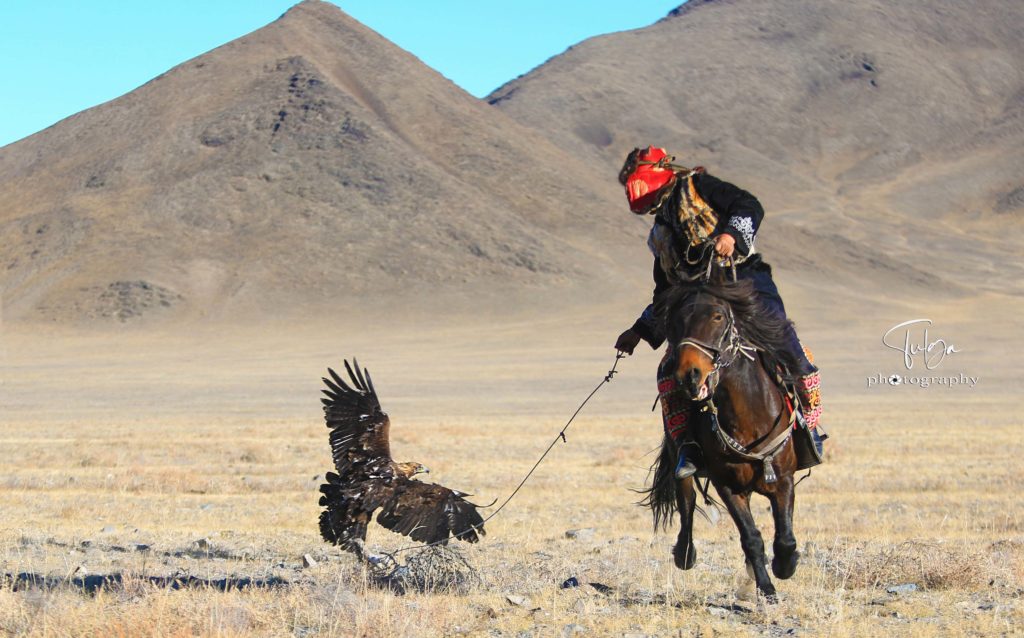 9. Why is the Golden Eagle Festival celebrated in Mongolia?
The tradition of Hunting with an Eagle has been practiced all over central Asia for hundreds of years, especially in the Kazakh and Kirgiz traditions. The Kazakh population is concentrated in the western province of Bayan-Ulgii and Khovd region of western Mongolia. This is the place the Golden Eagle Festival is originated.
10. Is the festival open for everyone?
Yes. It is open for everyone as it is a public event. Both adults and children can participate. Only it is the west corner of Mongolia and you need to be there to participate. Driving from the capital of Mongolia, Ulaanbaatar city, will take you 2-5 days to even reach Bayan-Ulgii province, so we recommend the 1.45-3 hours domestic flight with local Mongolian airlines.
11. How much does Golden Eagle Festival cost?
The Golden Eagle costs 30 USD per permission. Currently, there is no special fee for photography and recording at the Festival site. There is also no fee for children.
12. Why is the Golden Eagle Festival popular?
Firstly, Golden Eagle Festival has been successfully organized for over 22 years. Secondly, Aisholpan, the eagle huntress has a big influence on this festival and she is widely known among travelers all over the World. And most importantly, this festival is a heaven for photographers who love action, portraits, landscapes, handcrafted patterns, bird photography with the influence of nomadic culture.
13. How to get to Golden Eagle Festival
First, you need to arrive in Ulaanbaatar city. Afterward, you take the domestic flights to Ulgii town. Alternative towns you can fly to are Khovd and Ulaangom towns in western Mongolia.
Driving from Ulaanbaatar to the festival is rather long. You might need around 2-5 days to get to Ulgii town.
14. Can I book Golden Eagle Festival in advance?
Yes. You can book the festival as a package tour online through Tour Operators who run tours in Mongolia.
Book a Golden Eagle Festival Tour Here.
You can of course try to show up at the festival on your own, but there can be several difficulties. For example, purchasing air tickets, accommodation, and food near the festival site, or searching for a direct bus from Ulgii town, and more.
15. Is there a Festival Program?
16. What to wear at the Festival?
Are you wondering what to wear at the festival?
The Festival is a public event, so rest assured, it doesn't have a dress code. So, all you have to know is the weather forecast. It is warmer during Mid-September, +10+15C or 50+59F, however, the temperature drops dramatically in the evenings after the sunset. We expect +5+10C or +41+50F on a normal day in October.
Meanwhile, for locals and hunters at the big festivals, many of these people like to hate at least one day where they wear their traditional costumes. You'll see plenty of their Kazakh Mongol costumes with beautiful hand-crocheted patterns. It's fun to take part and try to spot all of the different costumes too. You will be able to buy local traditional costumes, hand-crocheted bags, fur hats, and many more at the festival site.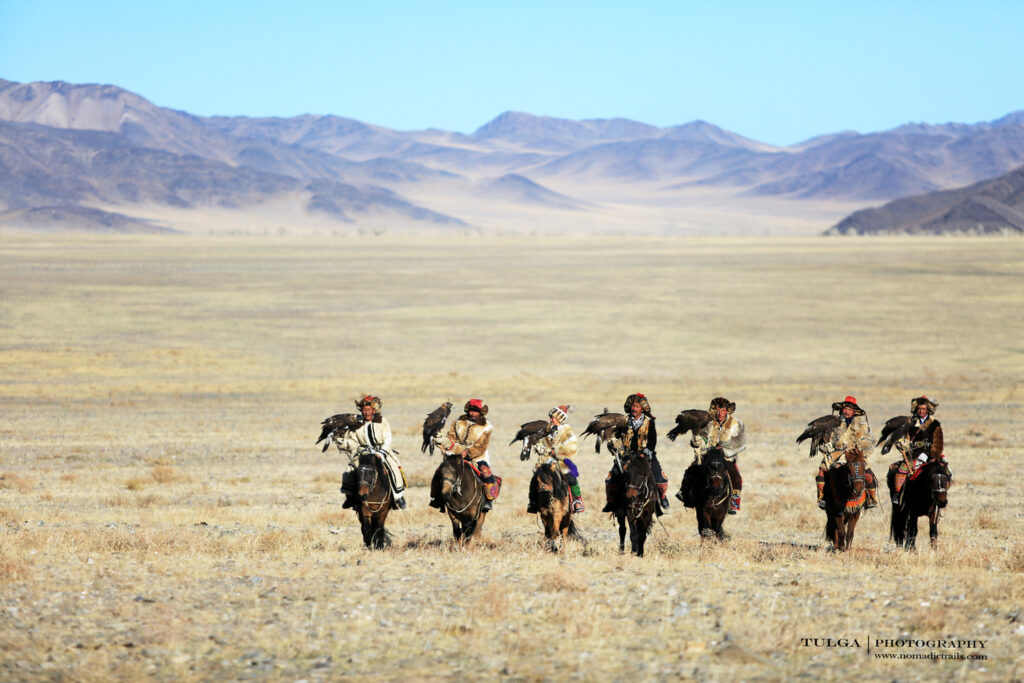 17. Festival food
You will find Dining Gers next to the art and souvenir shop.
Festival food isn't always the healthiest, but delicious nonetheless. One of the main festival foods is deep-fried mutton pasty. Another common food you will be able to buy is barbeques, usually mutton or goat. Drinks and water are sold in the small open shops.
18. Festival toilets
Festival toilets are amongst the worst in the world. They're often unclean and they smell. Unfortunately, everyone has to use them at some point! Tour Operators try to have private toilets for their clients nowadays.
19. Are there any coffee shops available?
There could be some small places that might offer coffee during the festival. There aren't many stools, tables, and chairs available either. However, don't part with your coffee just yet. Your tour operator or tour provider can serve you with this delight.
20. Is there a Movie to watch about Golden Eagle Festival?
For more about the tour to the Main Golden Eagle Festival in October, click "here".
If you would like a tour to the local smaller Golden Eagle Festival on September 15-16, click "here".
For tour
photographs and information, follow our social media! We post weekly.