There were many photos uploaded and shared as posts on social media such as Instagram, Facebook, and Twitter in December. We received so many comments about how good they were. So we decided to put some of The Best Reindeer Herder Photos together as a blog and share them with our Nomadic Trails followers and our future readers as well.
Thank you to our followers on social media and we promise to continue posting more photographs and news about our trips for you. Please enjoy.
Photos by Tulga Otgonbaatar, Head of Operation and Tour Leader.
All the data was collected from Nomadic Trails Mongolia's social media in December 2020.
1. Winter Travelers.
Thousands of people viewed the following picture and they enjoyed it a lot in December 2020. One of them left a lovely message, saying "This photo is really needed to be shown in the world!" It was one of Nomadic Trails Travel company's amazing winter tour activities for reindeer herders in Mongolia. In this photo, we were actually standing on the frozen Lake called Khar Nuur-(meaning Black Lake).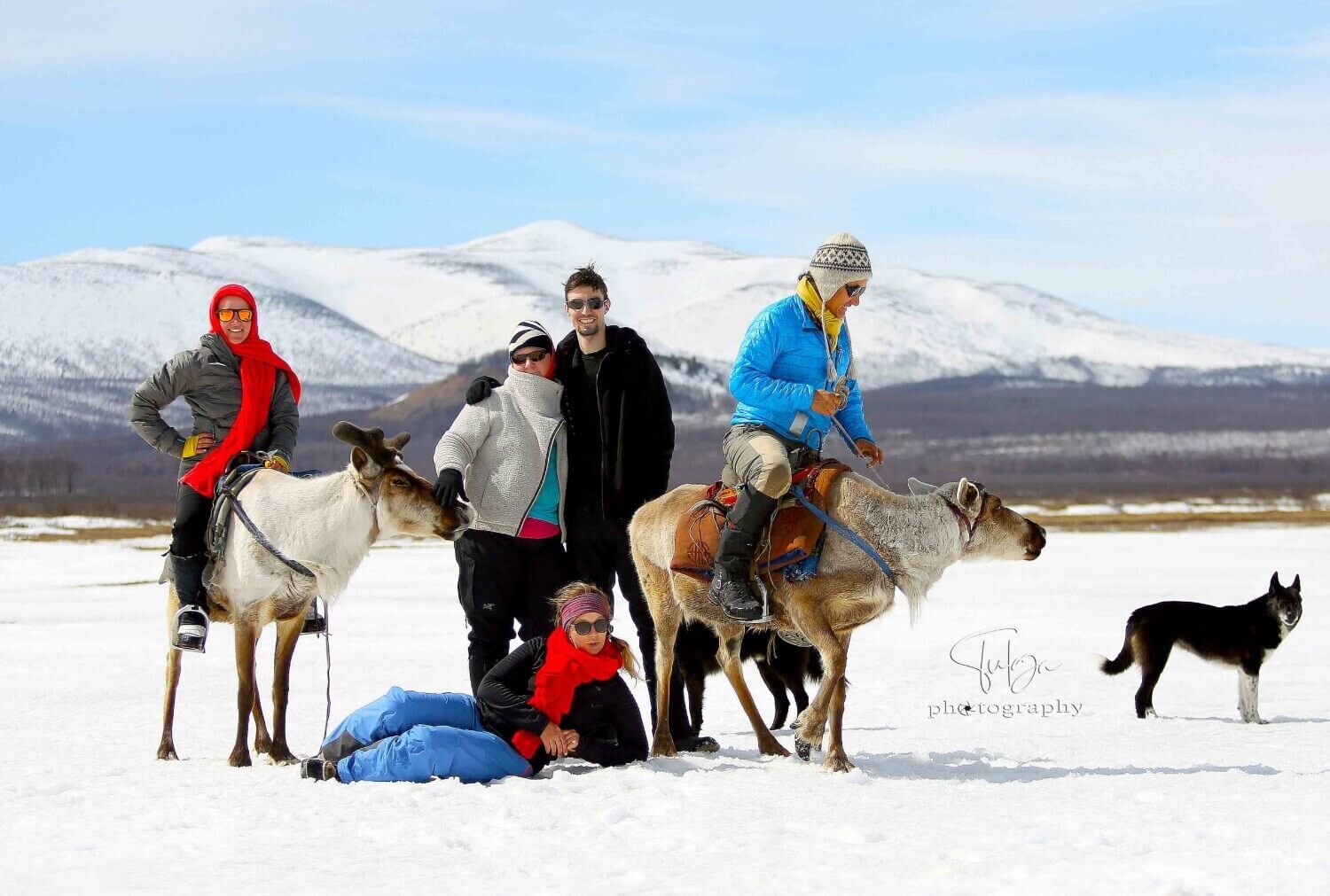 2. A terrible virus? Shall we wander to the village or go back?
This photo was taken in March, just before the lockdown due to the Covid-19 restriction in Mongolia. Reindeer herders received news of the pandemic and really had no idea about it. Then they decided to accept it as a terrible virus. There was a question raised among the tribe whether it is safe to travel down to the village nearby or not. In the meantime, Mongolia enjoyed 9 months without any spread of this virus and travelled freely within the country.
3. Grandkids with grandpa
A nice memory of one of our Autumn tours to Reindeer herders. It was captured at the beginning of September 2021. Most of the kids of the tribe went down to their school already when we, the Nomadic Trails team, and our travellers had arrived at the reindeer herder's camp. We had a wonderful time playing with the little ones who were left behind with the tribe of adults. So here is the photo.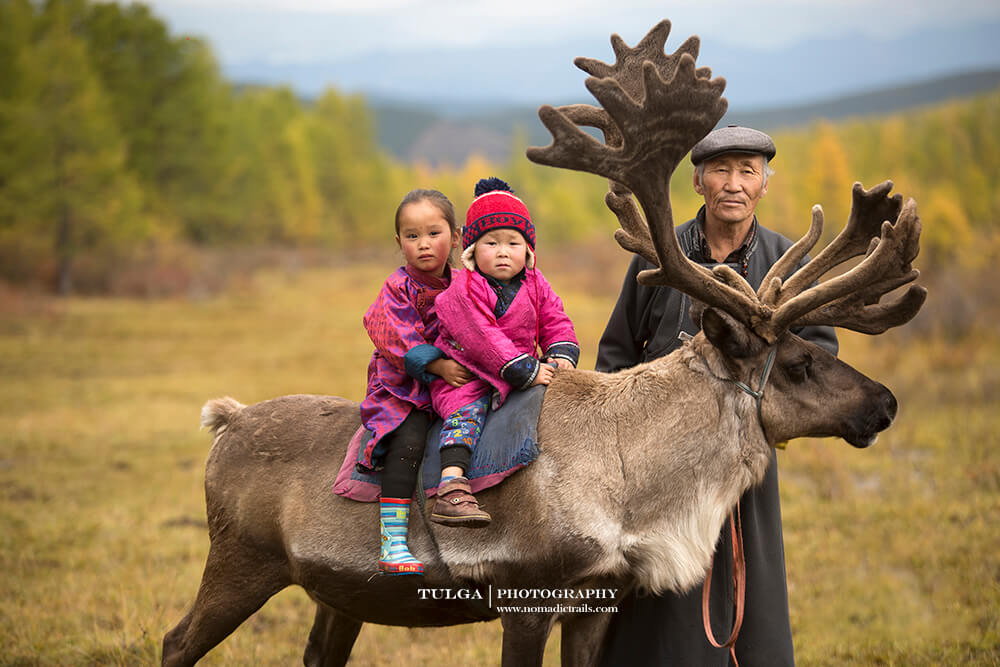 4. The White Spirit
Beautiful white reindeer is known as a Spiritual Animal in both Mongolian and reindeer herder cultures. There aren't many reindeer of this white colour that exist in Mongolia. Tulga, our Tour Leader, was very lucky to take this photo. Because we didn't see the antler of this white reindeer by the next morning. It just fell off! This photo made it to 4th place in popularity according to our social users.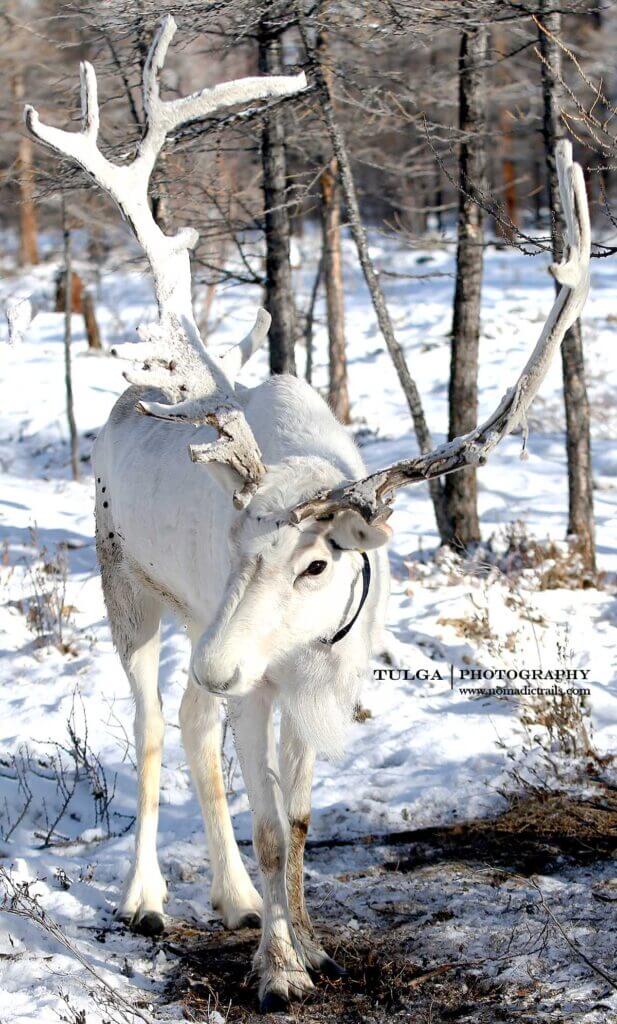 5. Reindeer in the water!
Tulga had watched several hundred reindeer swimming in the lake when our group of travellers visited the Reindeer Festival in 2019. They were swimming brilliantly but swirling! The only thing they needed was a leader in the front. Yes, the leader took the position then the rest was no problem. Freezing up to 5 km of water is nothing for them. People were even more fascinated by the majestic antlers in this photo.
6. Reindeer Herder Family.
The normal size of a reindeer herder's family is around 3-5 children. Tribes notably grow each year if quite slow. There are a number of reasons. If you would like to know more about the Reindeer Herders and their culture, travel with us to the Taiga in 2021 on our "Dukha Reindeer Herders Tribe Tour". This photo made it to 6th place.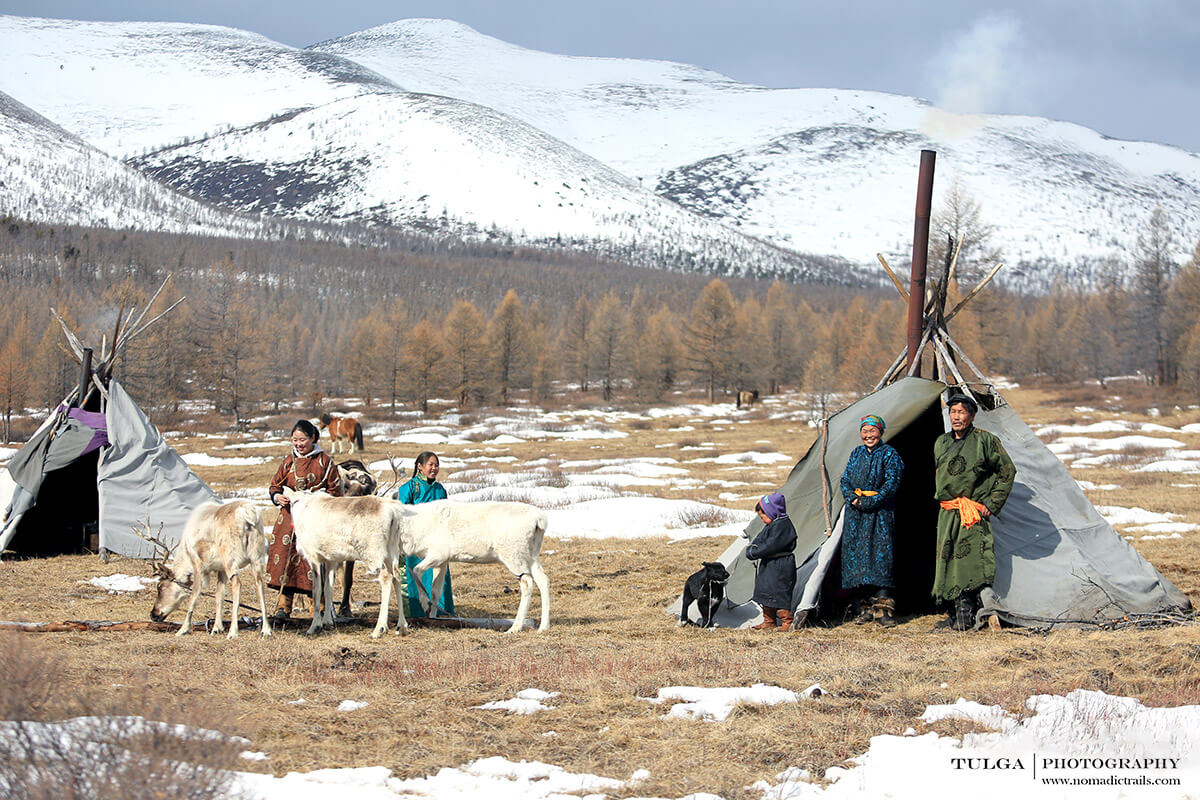 7. The Little Red Riders
What an amazing life they have! Reindeer herder kids just go out and ride their reindeer almost every day. There are a number of reasons they want to go riding, such as rounding reindeer up, visiting neighbours, and even going and playing together. This cute photo was in 7th place for our social followers.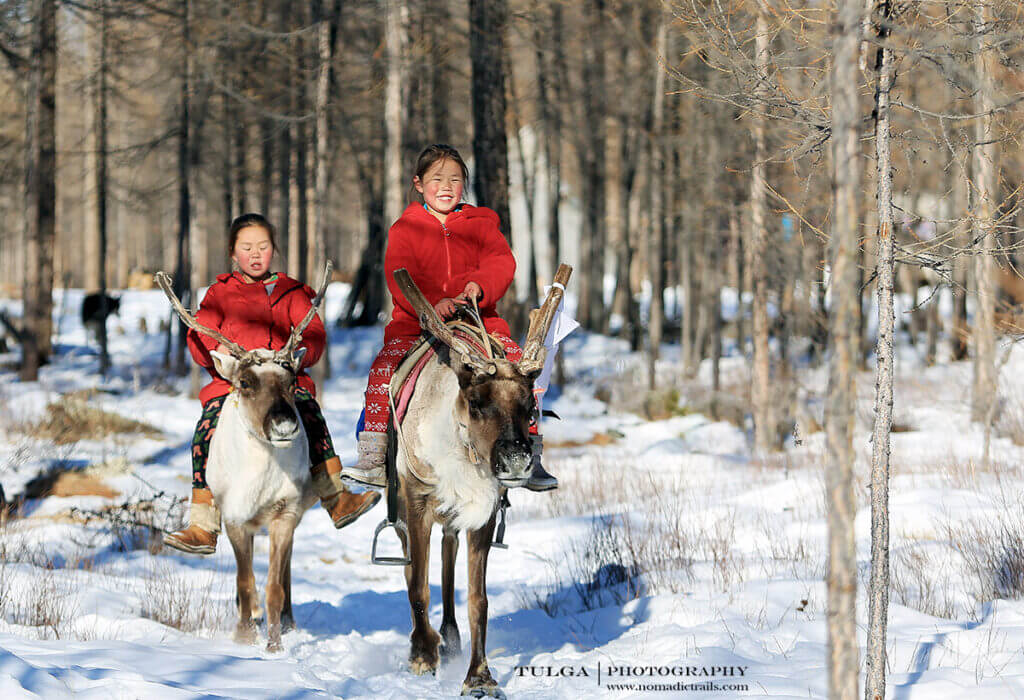 8. Pose with Mom
In this photo beautiful reindeer herder woman with her daughter Tulga took last year (2019). We heard the excellent news that she has had another baby, a baby boy, this year! The reindeer tribe is growing! This photo made it to 8th place according to our followers who visited our social pages.
9. Walk with reindeer
The man is walking with his reindeer in the heavy snow. The Taiga has snow that can reach even past your knees during wintertime. This photo is in 9th place. People are especially interested to see our winter photos during December.
10. The Giant Antlers
Reindeer antlers can grow up to 130cm and 100cm wide. Our Tour Leader took this photo during the Reindeer Festival which took a place in Tsagaan Nuur village in 2019. The photo is the number 10.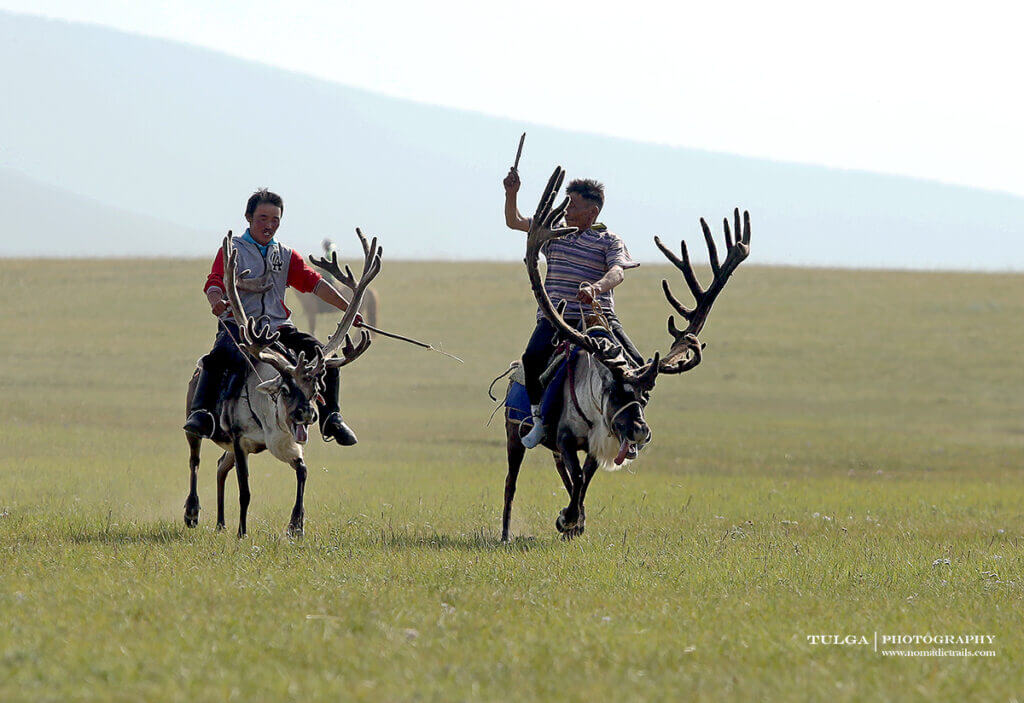 We hope you enjoyed The Best "Reindeer Herder Tribe's" Photos. A huge thank you to you, our reader, for being with Nomadic Trails. Don't forget to follow us on social media.
For more about our trips, click on "Dukha Reindeer Herders Tour" and "Spiritual Shaman Tour".
A trip to the Tsaatan Dukha or Reindeer Herder people can also be organized during winter. Check out this trip at "Winter Reindeer Herders Tour"